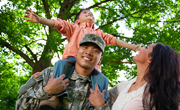 Upholding the rights of the military under the Service Members Civil Relief Act (SCRA) is an important way to honor their service. The SCRA provides servicemembers a number of unique protections and benefits, and noncompliance carries potentially enormous legal and reputational risks for your business.
Join LexisNexis® Risk Solutions and Morrison Foerster LLP for a free on-demand webinar. You'll learn:
Protections and benefits granted under the SCRA
Best practices for collecting on and servicing SCRA-protected accounts
Learn from others mistakes – recent enforcements and litigation relating to the SCRA
What's around the corner — emerging issues such as proactive outreach and benefits set up
Attorneys Michael Agoglia, Angela Kleine, and Alexis Amezcua from Morrison Foerster, LLP share their expertise and experience with SCRA enforcement, litigation, and compliance best practices. Director of Market Planning for Compliance, Linda Straub Jones, from LexisNexis® Risk Solutions, helps explain what SCRA resources are available for you to use, including best practices for searching for Active Military Personnel.