10/3/2016
ATLANTA and WASHINGTON DC, – A new survey on sentiments about identity theft and consumer habits for storing personal records confirmed that a significant number of Americans store documents containing personally identifiable information such as name, address, date of birth, phone, email address, Social Security number, etc., electronically on email, cloud and similar services.

The survey1 of more than 1,000 consumers, conducted on behalf of LexisNexis® Risk Solutions, probed for answers on what kind of personal information people store, where they store it and how concerned they are for its safety. The survey also inquired about government's role in protecting such information, as well as people's attitudes about online fraud in government programs.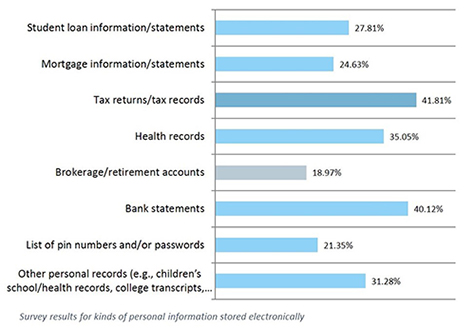 In light of recent breaches of popular email and other online services, the responses show the breadth of information available to hackers is concerning. More than one-third (35.35%) of respondents store records containing personally identifiable information on popular email services like Yahoo! Mail, Gmail, AOL and Microsoft Outlook. More than 23 percent store similar information on cloud-based document storage services like Dropbox, Google Drive and OneDrive.

The kinds and diversity of information stored is wide. More than 40 percent say they store tax returns, tax records and bank statements electronically. More than 35 percent store their medical health records. Approximately one-quarter of respondents store student loan (27.81 percent) and mortgage information (24.63 percent). More than 18 percent store brokerage and retirement account information. And even PINS and passwords are stored in the digital world, with more than 21 percent of respondents indicating this behavior. Yet when asked how concerned they were that a hacker might steal their personal information on email, more than 80 percent said they are very or somewhat concerned.

"The bottom line is this isn't just a change-your-password problem; it's fraudsters using our identity data for bigger crimes such as illegally securing public health benefits or public assistance or filing false tax returns using the stolen information," said Haywood Talcove, CEO, Government, LexisNexis Risk Solutions. "Hackers are turning to fleecing tax and health and human services programs because it's lucrative and it's gotten easier partly because vulnerable identity information is available in email."

Part of the reason may be due to the fact that many average Americans don't understand the scope of the problem, particularly at the government level. For example, the survey found that more than two-thirds of respondents (65.44%) didn't know that tax- or wage-related fraud was the number one type of identity theft reported last year2.

While approximately one-third of Americans (32%) think the government has been extremely or very effective in preventing hackers from using identity data to defraud government tax and benefits programs, a larger percentage (41%) believe the government has been only slightly effective (20%) or not effective at all (21%).

Respondents were somewhat more confident that they would at least be notified when a potential breach from their email or cloud service occurred. More than 66 percent said that they were very or somewhat confident they would be made aware of a potential hack.

"The recent revelation of Yahoo's email breach should be a wake-up call that consumers need to be more careful with the personal records they store online," said Eva Velasquez, President & CEO, Identity Theft Resource Center. "State-sponsored actors, organized criminal groups – foreign and domestic, and individual hackers are increasingly using stolen identity data to defraud consumers, the government and businesses. The breadth of personally identifiable information available to them in email and other systems makes it far easier to commit fraud online as they can convincingly construct false identities from the data."

For more information about the survey results please contact Mary Alice Johnson at (202) 394-7325 or email: MaryAlice.johnson@lexisnexis.com.
About LexisNexis Risk Solutions
LexisNexis® Risk Solutions includes seven brands that span multiple industries and sectors. We harness the power of data, sophisticated analytics platforms and technology solutions to provide insights that help businesses and governmental entities reduce risk and improve decisions to benefit people around the globe. Headquartered in metro Atlanta, Georgia, we have offices throughout the world and are part of RELX (LSE: REL/NYSE: RELX), a global provider of information-based analytics and decision tools for professional and business customers. For more information, please visit LexisNexis Risk Solutions and RELX.