Accurate information on patients is a must-have for healthcare providers. It's essential to have a way to securely authenticate patients, match and link disparate patient records, and enhance patient profiles with up-to-date and accurate information, while mitigating cyber threats.
LexisNexis Risk Solutions provides healthcare organizations with the means to enhance patient profiles and bring together disparate medical records via a unique identifier, LexID for Healthcare. This proprietary system dedupes and links records to a single patient. These patient records are continually updated with the latest demographic information.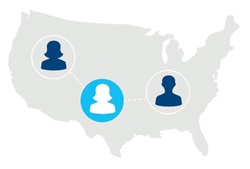 Socioeconomic data attributes gleaned from public and proprietary records and can better assess the likelihood of readmission when compared to models that only make use of clinical data. LexisNexis Risk Solutions has extensively tested the validity of hundreds of data attributes created from various sources.

Clinically validated socioeconomic attributes have been found to correlate to health outcomes including cost, hospitalizations, 30-day readmissions, emergency room visits, medication adherence, motivation and stress.
Socioeconomic Health Attributes from LexisNexis Risk Solutions
present greater insight into forecasted patient compliance.