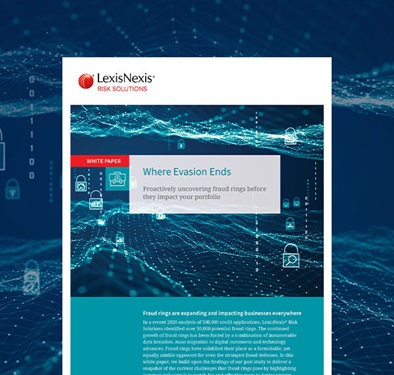 Identity fraud occurs when a person intentionally uses false personally identifiable information (PII) such as a name, address, date-of-birth and Social Security Number (SSN), to improperly obtain goods and services.

While identity fraud can be carried out as an individual act, thieves often collude to perpetrate their crimes, forming a fraud ring. Members of the ring may either be stealing victims' identities or improperly sharing and manipulating personal identifying information.
While some of these fraud rings are comprised of what might be considered typical criminal professionals, others consist of family members or groups of friends who collaborate to improve their rate of success and increase the scale of their fraud.
These groups may engage in a variety of fraudulent behaviors including:
Forgery
Filing false claims
Identity theft
Identity manipulation
Counterfeiting checks or currencies
By working together instead of on their own, members of the fraud ring can share information that helps them to make more money, better elude detection, aid one another with logistics, and carry out more diverse and complicated strategies for committing fraud.
In an analysis of 500,000 credit applications, LexisNexis® Risk Solutions identified over 30,000 potential fraud rings.
1
Signals indicating fraud ring activity derived from the identity and application coverage of the LexisNexis® Inquiry Identity Network and LexisNexis Risk Solutions public record and proprietary sources.
The average ring identified in our study contains 13 identities and averages 50 applications
2
. Although average rings may not be stealing $200 million, the aggregation of these smaller rings contributes to costly damage and ongoing fraud losses. Large and small fraud rings alike typically target three main industries: bankcard, wireless and retail card industries, with wireless carriers being hit the hardest at the time of our analysis. As we analyzed numerous fraud rings across the LexisNexis® Inquiry Identity Network and other LexisNexis® Risk Solutions networks, prominent patterns began to emerge.
Stolen Identity Rings - A fraud ring is likely to be using stolen identities when multiple core PII elements like First Name, Last Name, Date of Birth and SSN appear with multiple phone numbers, addresses and emails. The fraudster uses the stolen identity information with multiple contact elements to submit numerous applications, high velocity of applications and varying contact information is indicative of stolen identity fraud.
Synthetic Identity Rings - A fraud ring creates synthetic identities when there is evidence of PII tumbling, a mix and match of the core PII elements. The contact information is more likely to be reused with the different identities, as opposed to consistent identity information with multiple contact information like in the stolen identity fraud rings.
Fraud rings employ a mix of stolen and synthetic identities. They're adept at nurturing a stolen or synthetic identity to build viable identity personas and credit histories that allow them to skirt traditional fraud prevention tools. Over time, they incrementally increase the amount of credit the identity acquires. When the credit level has become significant, they "bust out" by maximizing the total credit available and then disappear without a trace.
Utilizing a systematic
fraud prevention
process LexisNexis® Risk Solutions is able to connect applications across multiple institutions and identify additional risky identities through proprietary linking of supplemental data. Not only can we find a fraud ring attack by analyzing application networks, but we can also identify which identities within those rings are linked to larger suspicious networks.
Ever-growing databases of personal and financial information are being stored online, giving thieves more opportunities to breach security and obtain valuable personal identity data. At the same time, identity theft rings continue to innovate, continually developing new strategies to commit fraud.
We developed a patented approach to the systematic detection of fraud rings by recognizing potential fraudulent activity. The patent covers a technique for detecting identity fraud rings by gathering a group of likely fraudsters and looking for interconnections. When these interconnections are strong, the individuals are likely participating in a fraud ring.
Combining collective network insights and advanced data science, enables LexisNexis Risk Solutions to build new variables into our fraud models. Those models offer the ability to recognize subtle patterns of fraudulent behavior and highlight them in our tools, such as
LexisNexis® Fraud Intelligence
, to detect bogus applications before they've been approved.
When enterprises have the right tools to identify fraud rings, they can tailor their remediation practices to reflect specific threat vectors and further prevent fraud losses.
Download the White Paper

1-2 LexisNexis Risk Solutions internal data sources