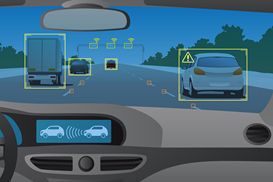 Some of the best technology allows us to do the things we want to do, or need to do, but simply better. The word 'better'can be subjective but for the purposes of what's going to define the vehicle of the future – and the self-driving vehicle of the future – let's work on the basis that the experience is going to be easier, more enjoyable, more consistent, and safer.
Picking up on the last two characteristics – consistent and safe – these are excellent characteristics for a car driver to exhibit. However, most accidents occur because of lapses in attention or concentration and this is sadly, the fault of those responsible for the task of 'driving'.
Humans are not designed to sit in a car, mile after mile, adjusting the speed and direction according to traffic and weather conditions. Most of the time, the driver does manage these various tasks to a decent standard. However, accident and insurance claims data clearly illustrates a set pattern defining why most road traffic accidents occur.
Take the UK Department For Transport's report on 'Road Casualties – Great Britain 2017'. The graph below clearly shows where improvements could be made.
Driver error or reaction in some form accounts for nearly 70% of reported road accidents, more than double the effect of any other risk factor such as vehicle defects or the road environment.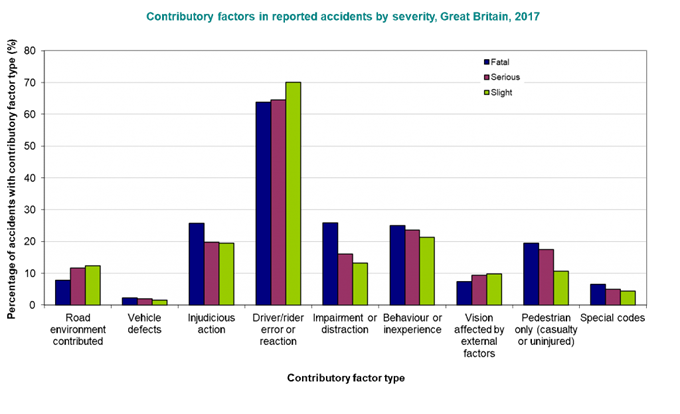 This is where the technology can help and indeed is helping already. Most new cars are available with one or more ADAS ( Advanced Driver Assistance Systems) feature. ADAS technologies will use specific data and technology to 'assist' with the function of driving the vehicle. As these features are specifically designed to perform the same task, time after time, mile after mile, so they do the task very well.
The most common aspect of an ADAS feature is a sensor or a set of multiple sensors. These are capable of accurate monitoring and detection. Data from these sensors can then go onto inform the driver or even perform an active function of controlling the vehicle braking and/or steering.
Multiple sensor technologies for multiple applications
The type and position of the sensors will help to ensure that they are best suited to performing the desired 'assistance' function.
The graphics below show the most commonly used sensors, their general location and how they are typically deployed and used.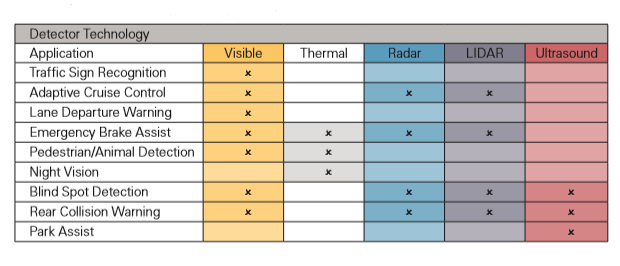 A world with potentially 70% fewer collisions awaits
These ADAS features are proven to reduce accident frequency and independent studies support this. Taking just two examples:
Europe: AEB (Autonomous Emergency Braking) leads to a 38% reduction in real-world rear-end crashes concluded by a EuroNCAP and Australasian NCAP.
North America: HLDI and IIHS studies the effects of crash avoidance features by comparing rates of police-reported crashes and insurance claims for vehicles with and without certain the technologies (June 2019) as follows:

Forward collision warning fitment resulted in a reduction of

27% Front-to-rear crashes

20% Front-to-rear crashes with injuries

Forward collision warning plus auto-brake fitment resulted in a reduction of

50% Front-to-rear crashes

56% Front-to-rear crashes with injuries.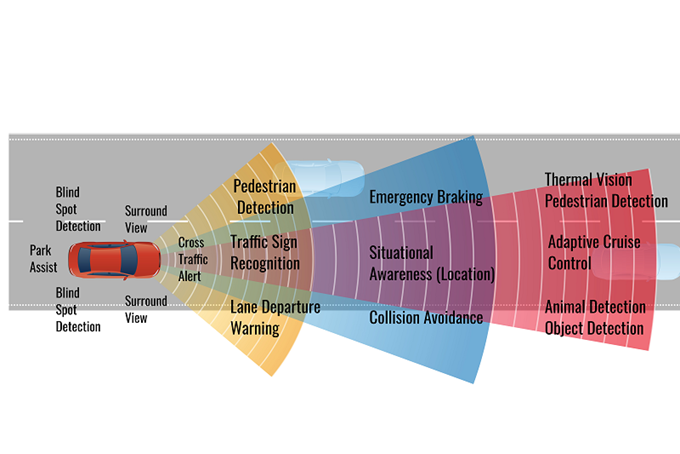 Vehicle sensor technologies include: Visible (far distance), Thermal, Radar, LIDAR and Ultrasound (near distance)
Right now, we are referring to 'assistance' with driving but when used in combination, an ADAS equipped vehicle can certainly drive itself. On a clearly marked road, a vehicle fitted with Adaptive Cruise Control, Blind Spot Mitigation, Forward Collision Mitigation and Lane Departure Mitigation can operate itself.
Whilst the self-driving vehicle that can take people door-to-door without any human intervention is some way off, significant advances are here today. At LexisNexis Risk Solutions we have classified these technologies and their impact on insurance risk and collision risk, based on millions of miles of real world driving data.
These ADAS technologies can assist with certain driving functions and more importantly they do so with potentially less risk than a driver performing the same task unaided.
Click to download more information about LexisNexis® Vehicle Build and our ADAS classification system.
LexisNexis Risk Solutions, a unit of RELX Group, is a global data technology and advanced analytics leader, with customers in over 100 countries worldwide.
Follow these links for information on our Connected Car Team, the Global Telematics Platform or the LexisNexis Risk Solutions website for US insurance or UK insurance to find out more.
---
Automotive Insights
LexisNexis Automotive Insights is the go to resource for discussion on helping you maximize your data productivity and efficiency to help improve the car ownership experience.