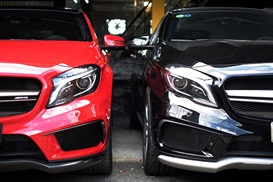 In the last two decades, driver assist technology together with the data generated and recorded by cars has grown exponentially as car manufacturers have invested in making vehicles safer and more pleasurable to drive. While the prime focus is on reducing emissions by electrification, European car manufacturers need to maximize the value of vehicle data to help drive ongoing developments in Advanced Driver Assistance Systems (ADAS), lower the cost of ownership and engender brand loyalty. As part of this strategy, car manufacturers have been looking for ways to create connections with insurance providers in Europe to help their customers benefit more fully from their investment in ADAS, including through their insurance cover.
Leveraging static and dynamic vehicle data
In 2019, worldwide sales of connected cars with embedded telematics are estimated to have hit 28.5 million units* and Europe is slated to be the market with the largest connected car parc globally in 2023. Furthermore, between 2015 and 2020, the global Advanced Driver Assistance Systems (ADAS) market doubled in size and is expected to reach nearly $32 billion by 2023 **.
The continuing advances in ADAS and the growth of connected vehicles provides a rich stream of static and real-time driving data that can offer a much fairer basis for pricing motor insurance than the existing 'proxies' used by the insurance sector for calculating risk.
Making the insurance market ADAS aware
Starting with ADAS, insurance providers have needed to understand the impact of these valuable and effective systems on claims frequency and severity to help calculate pricing.
From the car manufacturer's perspective, understanding the link between in-car safety features and insurance claims could offer much deeper insight for vehicle-level benchmarking and to understand ADAS system efficacy. It will also give car makers the ability to showcase to customers the true safety impact of purchasing vehicles equipped with these features, aiding decisions to invest in the technology and in turn support the sector's zero fatality strategic objective.
However, deciphering the precise specification on a new vehicle is very complex with a variety of standard and optional features that will include ADAS. Also, ADAS features tend to be described very differently from manufacturer to manufacturer to create market differentiation. An added complication is the availability of 'packs' where the OEM will group together a number of features and offer this as an equipment pack. These too will have a name and the content of the 'pack' can differ over time based on consumer demand and competitor benchmarking.
To address this problem, LexisNexis® Vehicle Build was created as an ADAS classification system to logically sequence and classify vehicle safety features and the component's intended operation or purpose. European motor manufacturers are now starting to share ADAS data and testing is well underway to build intelligence around how ADAS fitments relate to claims with motor insurance providers in the UK and Europe.
With over two-and-a half million vehicles having been assessed across four European countries*, this means that for the first time, confirmation of the safety features of a car, along with how well they perform will be accessible to insurance providers at a Vehicle Identification Number (VIN) level for insurance quotes.
Solving the many-to-many problem
In addition to the 'static' vehicle build information, dynamic data from a connected car goes even further offering the ability to use data on how a car is driven to provide the gateway for usage-based insurance (UBI).
But, we need to solve the 'many to many' problem where you need to connect many car makers to many insurance providers, connecting many vehicles and their drivers. One-to-one connections aren't efficient. At the same time, there will be data flowing from millions of vehicles which will need consumer permissions to share with the insurance market. The data will need to be standardized so that consumers are priced for insurance consistently regardless of the vehicle make or model they are driving.
We estimate that without a data exchange, building the connections it needs with the insurance market could cost car manufacturers $4 billion****.
Connected car data exchange
The formation of a connected car data exchange is helping to solve this 'many to many' challenge. It will enable driving data from motor manufacturers to be brought to insurance providers through one data exchange in a normalised, contextualised and standardised manner. The ultimate goal is to deliver this back as an actuarial grade driving score for UBI, regardless of the vehicle make, model or device type.
This approach removes much of the complexity, cost and compliance issues car manufacturers could otherwise face in delivering insurance benefits from the connected car. It also helps pave the way for subscription, pay per use, pay per mile and other mobility models of the future.
Already multiple car makers are participating in the LexisNexis® Risk Solutions US exchange, while the European exchange is growing with multiple deals expected to be signed with European automotive brands in 2021.
Customer consent
Clearly customer trust and education must be front and centre when it comes to when and how connected car data is shared with insurance providers. There are multiple ways to obtain consumer consent to share and use connected car data both OEM-led and insurance provider-led processes can be effective. Thinking more broadly, however, the European Union has initiated several funded projects designed to increase consumer confidence in the use of personal data generated by internet connected devices including connected car data. One of these is Project SmashHit. This consortium has been tasked with creating a secure platform that will increase consumer trust and confidence in personal connected car data sharing for specific use cases. Utilising its experience supporting the insurance and car manufacturing markets in Europe and working closely with Volkswagen Group, LexisNexis Risk Solutions will focus on consumer consent for UBI derived from connected car data
Acceleration of connected car data
These developments all demonstrate the acceleration of the connected car data whether static or dynamic into the mainstream with automakers looking for better ways to make connections to the insurance market. Making vehicle centric data 'work' for the good of the customer, car maker and insurance provider will be reliant on a central data exchange connecting these two industries, where data can be normalised and managed in a compliant way. This will make the huge volume of connected car data meaningful and useable for insurance and other services.
During 2021, we will continue to see the evolution in ADAS features that have over-the-air update capabilities, giving the consumer greater flexibility and control. Many OEMs are building vehicles with ADAS capable features such as LED matrix headlamp units that the customer can upgrade to become 'adaptive'. At LexisNexis Risk Solutions we plan to work with our OEM partners to evolve the Vehicle Build solutions to best reflect this innovation and bridge the static and dynamic technologies.
Over-the-air (OTA) updates are another reason why consumers are likely to want to have their vehicle 'connected'. OTA can be used to deliver things like updates to infotainment, insurance and collision services as well as technical automotive upgrades. These connections will give car manufacturers an opportunity to monetize the investment they have ploughed into delivering telematics and connected car technology while insurance providers will be able to develop new propositions based on vehicle data or driving behavior data to help ensure they remain relevant in response to consumers' changing needs and expectations.
But ultimately customers will have the most to gain by paying insurance based on the exact features on their car and how they drive it, which in turn can help reduce cost of ownership and help make all our roads safer.
*Statista.com, Global Sales of Cars With Embedded Telematics
** Statista.com
***Data correct in May 2021
****LexisNexis Risks Solutions estimate based on the cost of building the technical connections required between the insurance sector and automotive OEM market excluding personnel costs.
---
Automotive Insights
LexisNexis Automotive Insights is the go to resource for discussion on helping you maximize your data productivity and efficiency to help improve the car ownership experience.