Distracted driving isn't anything new. Ever since the first driver slipped behind the wheel of the first automobile, the opportunity for distraction has presented itself. Whether it's attractive scenery, putting on make up in the rearview mirror, eating your lunch while on the road, or wrangling kids in the backseat, distracted driving has continually presented risk on the roadways.
What is new is how distracted driving events have escalated over time, the magnitude of the damage they can inflict and, in particular, the profound influence of smart phones on making our roadways much more dangerous. It's estimated that nine people in the U.S. are killed every day in crashes that reportedly involve a distracted driver and 44% of distracted driving auto accidents that include a teenager resulted in a teenage fatality.[i] It's no wonder that just a few years ago distracted driving was dubbed "the new DUI." As smart phone usage while driving continues unbridled, it will continue to drive distracted driving.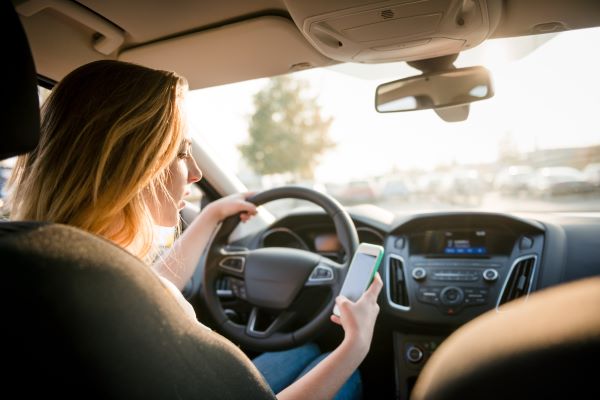 A bird's eye view of the current situation
LexisNexis® Risk Solutions internal data indicates that during 2021 through 2022, miles driven have increased almost to pre-pandemic levels. In tandem, distracted driving violations have continued to increase. Violation levels have essentially returned to 2019 levels.
Who are the distracted drivers? On average, 58% of distracted drivers are males and 51% are Millennials (23-40 years of age). This is key data, as more than half of all these dangerous events are attributable to one age group. In a 2023 survey by Nationwide, younger drivers (18-26 years of age) admitted to some disturbing driving behaviors[ii]:
38% admitted to looking at their phone more frequently while driving.
34% video chatted while driving.
24% checked for social media while driving.
At the same time, all generations are showing an increase in distracted driving violations. In fact, we're seeing a higher percentage of distracted driving violations among the older generations than in the past. We're also seeing an increase in distracted driving violations among female drivers―again, particularly among the older generations. Interestingly, Generation X distracted driving incidents, while they are increasing, are increasing at a lower rate than in previous years.
What's to blame? Smart phones are a prime culprit.
Smart phones are proving to be one of the leading causes of distraction-related accidents. It's crucial to understand the impact of smart phones on driver attention and which behaviors are most problematic. It's estimated that 2.5% of drivers hold their phone to their ear while driving.[iii] While that may seem like a small percentage, the exponential impact is alarming. At any given moment in the U.S., approximately 373,066 people are holding their phones to their ears while operating a motor vehicle.[iv] Women are more likely than men to use a phone while driving.[v]
Despite most new vehicles offering opportunities for hands-free phone use, many drivers don't take advantage of these technologies, even though there are a plethora of laws regulating phone use while driving: [vi]
Thirty states, D.C., Puerto Rico, Guam, the Northern Mariana Islands and the U.S. Virgin Islands prohibit all drivers from using handheld phones while driving.
Thirty-six states and D.C. ban all phone use by novice drivers.
Twenty-three states and D.C. prohibit phone use for school bus drivers.
Currently, 48 states, D.C., Puerto Rico, Guam, the Northern Mariana Islands and the U.S. Virgin Islands ban text messaging for all drivers.
What can we do about it?
Many businesses and municipalities are investing in initiatives that can help stem the tide of distracted driving. For example, Amazon CEO Jeff Bezos is offering Amazon Prime members the opportunity to garner insurance discounts by using a new "Distracted Driver Protection" app that alerts drivers to phone use while driving.[vii] A proposed law in Pennsylvania would prohibit both holding and talking on a phone while driving. [viii] In Arkansas, legislators are recommending a criminal penalty for drivers whose phone use while driving leads to severe injury or death.[ix]
Of course, individuals are ultimately responsible for their own behavior. Every driver has the opportunity to take advantage of tools that can help them avoid using a smart phone while driving. Passengers have a responsibility to speak up if their driver is using a phone while driving. Everyone in a vehicle can help ensure drivers aren't distracted in any way.
Insurers can be a powerful influence
As an insurer, you have potentially greater opportunity to influence and encourage safe driving behavior among your customers than anyone else. Given that April is Distracted Driving Awareness Month, now is the perfect time to reach out to and educate your customers about the current state of distracted driving (smart phone use in particular), it's devastating impacts and the many ways each of us can help reduce and eventually eliminate this significant traffic safety risk.
This is also an excellent time to engage in and promote telematics programs that reveal crucial driving behavior insights that can help reduce risks to your customers and your business. Telematics-driven insurance programs can help your customers save money, help you reduce risk and help all of us contribute to greater safety on the roadways.
---