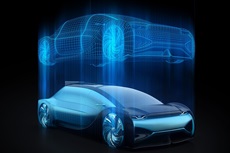 After more than 100 years of competing on engineering excellence and manufacturing efficiency, the digital transformation of the automotive industry is taking another lap. Unheard of before, over the air updates to automotive technology will help determine what features are equipped and ready to use. Customers or consumers can also benefit from personalised, higher-quality vehicles with greater levels of automation. Connectivity to all kinds of new 'virtual' services, product benefits that surround the vehicle itself and the cost of maintaining the vehicle from fuel to insurance stand to influence the consumer of the future.
The number of connected vehicles is growing, but so too is the sheer volume and variety of data that each vehicle is processing. If we think of live traffic maps, telematics and connectivity to insurance platforms (8GB and 64GB), dash cams and in-vehicle infotainment (64GB and 256GB), vehicle-to-vehicle (V2V) communication and eventually autonomous driving: these are all new channels that are literally creating a tsunami of data. The floodgates are likely to open even further with the arrival of the 5G cellular standard.
While there's the benefit of insight from the volumes of data, clearly there's a need to manage automotive sector data and insurance sector data in a way that is faster, cheaper and which brings even more real benefits to drivers and consumers.
Data is becoming increasingly valuable to automotive players and insurance players as connectivity makes its way into both vehicles and city architecture. Today, half of all new car sales are considered to be connected in some way and commercial vehicles are moving in the same direction.
Meanwhile, there's been a huge amount of research happening in the mobility space, and innovative companies have been reviewing use cases for connected vehicles along with the data regulation and data requirements. These companies that serve the automotive and insurance industries have already seen considerable change in terms of integrating live vehicle data into core systems, and making it usable for real business benefits, refining the huge volumes of raw data that is now being created in various live environments.
EU SmashHit project laying the foundations
The challenges of bringing multiple parties together to solve real world data challenges – such as how to manage the volume of data and regulatory requirements like we do for the insurance industry and how to ensure the customer benefit is at the heart of any solution – are what lay behind our role at LexisNexis Risk Solutions in the SmashHit data consortium, set up under the EU Horizon 2020 programme to solve future industrial data uses for Europe.
Project SmashHit is a three-year initiative to support the emergence of data markets and the data economy. It has been tasked to create the platforms to ensure consumers remain in control of their data and its subsequent use. It will also help enable secure sharing and trading of data with robust, automated controls on compliance.
It's through our research into the use cases for telematics and connected car data and data 'retros' or retrospective studies of real data from the recent past that we're helping to drive more clarity around the expansion and explosion of connectivity in cars.
One particularly challenging area is the embedded connectivity and hardware in vehicles, which is creating new types of business adjacencies with insurance products and risk assessment – formerly isolated databases – interacting in a way that has never been seen before.
In our recent EU Connected Car Forum, Nick Walker, Telematics, Connected Car and IoT Consultant for LexisNexis Risk Solutions said: "Let's remember that every car that is built and sold, requires an insurance policy to go with it. The customers are actually common. So we've got to look at what benefits we really bring and how that spreads."
"If you look at what's going on, what we've learned from the car manufacturers, and what the car manufacturers really want to achieve, what they would like to do with us: it's really all about expanding services. Expanding connected services and brand interaction. But also not only that, it's about new models of ownership. The consumer's whole life cost become a really important factor."
This new way of thinking is a major change happening across the world, being driven by a mixture of internal factors and the desire of the automotive OEMs to stay more connected to customers and their vehicle features. There are also challenging external factors such as GDPR and other legislation related to the demanding on-vehicle operating environment. There's been a lot of hype and discussion around the potential value of data that is going to be coming out of cars.
But, there's also been a lot of pragmatic opinions expressed over the last couple of years around questions like: how is that new data value really going to be realized? What are the pinch points in the data ecosystem that need to be addressed? What exactly are the benefits in the consumer mind-set for this new type of interconnected vehicle? What role can the automotive OEMs perform in sharing car data in a way that is both privacy-friendly and which enables the data in the right way for third parties? How can we best involve insurers to benefit our customers?
This is exactly what we look forward to addresses as we look at Project SmashHit.
Visit the SmashHit website for more information on consortium members and current projects. SmashHit is formed by a consortium of nine organisations drawn from analytics, data security, car manufacturing, smart city infrastructure and academia working collaboratively to deliver the benefits of shared connectivity to millions of consumers.
LexisNexis Risk Solutions, part of RELX, is a global data technology and advanced analytics leader, with customers in over 100 countries worldwide.
If you have a question or a sales-related enquiry Contact Us and a member of our Client Engagement team will be in touch.
---
Automotive Insights
LexisNexis Automotive Insights is the go to resource for discussion on helping you maximize your data productivity and efficiency to help improve the car ownership experience.