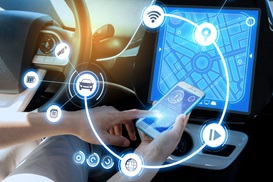 They will push automotive OEMs and insurance companies to work closer together in the future.
Companies are harnessing new technologies to enable some incredible new customer experiences across business verticals that were once considered stand-alone. With in-vehicle shopping for example, vehicle on-demand services competing with vehicle rental, or insurance telematics running over a native vehicle application, traditional business borders are being broken. There are developments in three main areas that are pushing the future of the automotive OEMs and insurance companies closer together.
Digital intelligent products
Products are becoming highly intelligent, and more adaptive, and the auto industry will play its role. With the Internet of Things (IoT) we can expect more auto-related services that involve sharing more information about the vehicle's health, location, wear-and-tear, usage-level, type, timing, parking conditions, and much more.
Insurers meanwhile are shifting and they're developing a service suite:
Emergency support or remote assistance on the road (Roadside Assistant)
Data monetization
Data utilization from advanced driver assistance systems (ADAS) and other intelligent vehicle systems
On the road concierge services, location-based alerts and linking to other parts of the urban infrastructure with smart cities
Biometrics for smart locks, customization and smart alarms
Safe driving alerts, eco-driving alerts, parental controls, driver coaching and rewards related to a usage-based insurance program.
In the OEM world. some examples include Audi's MMI Connect app, which is wrapped with some interesting features like seamless smartphone integration to vehicle navigation, and other features built around an open platform for content control and commerce. The new Audi A8 features self-drive, piloted parking and it recently became the first vehicle to achieve Level 3 autonomy.
Earlier this year, GM broke some new ground with its in-vehicle Marketplace offering shopping and dining options, intelligently learning what the driver wants to buy, where and when. With apps like Audi On Demand or GM's Maven consumers can now get the car of their choice delivered to their door, without ownership. Mercedes-Benz, BMW and others are developing vehicle connections to Amazon's home automation device Echo or Google Home.
The automakers are in a transition to become the customer hub in the digital world.
Emerging technologies
New technologies such as cognitive computing, augmented reality, blockchain, machine learning, artificial intelligence, robotics and voice controlled interfaces will soon be integrated.
For the vehicle ecosystem, we can take a crystal ball and speculate about how some of these may apply in future. The autonomous vehicle will likely be the first mainstream application for AI and cognitive computing in society: but imagine an insurance claim, processed by real-time telematics data and image recognition, assessed and resolved over a smart contract in minutes.
Imagine, intelligent alerting that takes risk management data to recommend safer places for a driver to park, or safer and more economical routes to work. Imagine vision-based systems running over vehicle-to-vehicle communication that enable the driver to see further down the road ahead, for collision prevention and risk mitigation.
To an increasing degree, the automotive OEMs and the insurers agree that their competitive advantage will be determined not just by their own organization alone, but by the strength of their partners in the eco-system.
What's more, if customers have a bad experience with one partner in the eco-system – with anything from vehicle recall data, to navigation or an insurance service – it will reflect on the system as a whole, with potential loss of trust and damage to brand reputation.
The pervasiveness and exponential growth of data, and the software platforms that rely on it, will continue to become more important, with rising demands on interfaces and application technologies that standardize and reduce friction.
Shifts in consumer expectations
Soon everything will be connected over the vehicle: every asset, component, supplier, repair shop or dealer, software house, content supplier, e-retailer, fleet manager, auto rental or ride hailer network, the insurer, the claims handler or other insurance intermediary, and of course the customer.
The connected world is bringing many more opportunities for companies to collect customer data and use it to bring new services to life, and enhance the customer experience.
Consumers are changing their perspective on traditionally 'private' information, understanding the value of the enhanced services. This seems to be leading to a higher level of customer empathy, or connectedness that can transform product value chains.
But in an ecosystem model, trust is all important. Where does the boundary, and the data hand-off, between one organization and another sit? How do the partners maintain trust and integrity of the data?
How will everyone involved keep the vehicle safe in the 'fuzzy middle', the area where driven and driverless vehicles are sharing the roads, where the human driver switches over to the autonomous controller?
For an insurer who has to maintain its due diligence principles in this business environment, it's not enough to have digital trust and security in its own operation. It must be in a position to pay out claims to customers in the time-honored manner, at the same time as vouching for data served over the platforms of other partners in the ecosystem.
From our perspective at LexisNexis Risk Solutions, it's very important that the health and status of the data running over the ecosystem is maintained, filtered and held under the data protection regulation, to be available to the right people and systems at the right time.
The automakers and insurance industry can achieve a lot together, working to get quality time with the consumer, both in and out of the vehicle.
---
Automotive Insights


LexisNexis Automotive Insights is the go to resource for discussion on helping you maximize your data productivity and efficiency to help improve the car ownership experience.