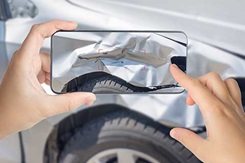 Imagine claims processing that involves no human-to-human interaction. Seem out of reach? It's not. As the insurance industry and consumers alike get more comfortable using technology and data-driven solutions, straightforward, non-injury claims could be handled entirely through automated or touchless processing. Touchless claims processing is well-suited to these types of claims. It could include self-service claims reporting, automatic electronic payment distribution, and more options that don't require face-to-face contact.
Covid-19 and Touchless Claims Handling
The Covid-19 pandemic has pushed the world more toward using automated and touchless processes across industries and functions for safety reasons. These processes can also yield greater convenience and efficiency, including in the insurance sector.
In this video, William Brower, Vice President, Auto Claims for LexisNexis Risk Solutions, explains how data technology advances combined with willing customers and a workforce that can leverage the latest technology tools could translate to an increase in touchless claims.