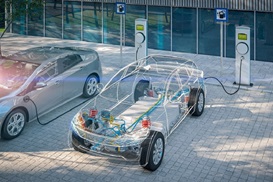 At recent industry meetings automotive leaders heard they must embrace change to make the most out of the new platforms.
Embrace change or face disruption: this was the message for the vehicle OEMs from a series of industry meetings on the connected car, telematics and autonomous vehicles during London Tech Week and TechXLR8.
From the insurance aspect, connected cars are the ultimate application of the Internet of Things (IoT), introducing new advanced safety features, and demanding new types of risk rating and data sources.
On the road to the fully autonomous vehicle, connected cars will start to collect and process huge volumes of data from an array of sources. Cars will communicate with other cars, exchanging data and alerting drivers to potential collisions. A rental car will know when you are in the driving seat and it will recognise your personal in-vehicle preferences (think infotainment, your work schedule or weather reports) and it will know your risk rating for insurance purposes.
Cars will talk to sensors on road signs on stoplights, bus stops, even ones embedded in the roads to get traffic updates and rerouting alerts.
At some point in time, cars will also talk with our homes, offices, smart devices and other infrastructure, collecting information and acting as a digital assistant — all areas where new contextual insurance alerts can come into play.
By 2022 around half of all new vehicles will be shipped with V2V (vehicle-to-vehicle) hardware — the technology that enables real-time short-range communication between vehicles — according to a new report from Juniper Research.
The report 'Consumer Connected Cars: Applications, Telematics and V2V 2017-2022' found that the total number of V2V-enabled consumer vehicles on the road globally will reach 35 million by 2022, up from less than 150,000 vehicles in 2017. This strong growth rate (376% annual compound growth) reflects the early stages of roll-out for V2V, but will still only represent 2.7% off all vehicles.
Along the growth curve, connected vehicles will need the cloud and they will need data connections, thousands of them. Vehicles today are already packed with some impressive technology, the typical luxury car for example is underpinned with 100 million lines of software code, but this technology will be increasingly networked and collaborative.
Customer consent at the heart of data use
At the TechXLR8 conference, Kenneth Malmberg, General Motors European business development lead for infotainment and telematics, said: "The determining factor for the use of vehicle data will be the customer's consent. Open platforms will deliver real time access to car data in future, but it won't be a free-for-all….A lot of the app developers who were not previously involved with the automotive industry will have access to new tools."
But he added: "In the long-term, OEMs will need to decide levels of sharing data, rather than just opening it up for anyone to use. It is not a question of who owns the data but rather who is allowed to do what, for example with diagnostics and insurance and services, all this requires a conversation."
Mark Thomas, Vice President of RideCell, described a future of connected vehicles where ride sharing will be the most popular type of mobility, underpinned by machine learning and artificial intelligence for advanced demand and supply of shared vehicles (at the right place at the right time).
He predicts the automotive world will move towards a cross-platform network, with vehicle fleets cooperating with other fleets for multiple services to even out an uneven demand curve, since commuting and night-time leisure uses largely determine the pattern of mobility today. In this area we can note that BMW's iVentures recently made a strategic investment in RideCell for autonomous fleet management and analytics. RideCell is also supplying technology infrastructure to the GIG Car Share project in California as well as Omni, Skoda Poland's car sharing venture.
"The time to act is now, to experiment and embrace partnerships," said RideCell's Mark Thomas.
"The vehicle app is the easy part. The really hard part is the end-to-end experience, working with other partners….We are moving to an intelligent platform for mobility services. The OEMs understand that they have to shift to survive."
Toby Poston, director of communications and external relations at BVRLA (British Vehicle Rental and Leasing Association), commented: "We are in exciting times with the connected world, but facing danger in the regulatory sphere, with who has access to the data."
In fact, it is this area of data governance, customer consent and privacy where the insurance industry has such a great role to play, as it is built on hundreds of years of data management with experience of handling enterprise data projects at great scale. Many participants in the connected car ecosystem are looking for governments, data systems experts and financial regulators to act as honest brokers.
The US Department of Transportation recently announced plans to enable V2V communication. It predicts V2V could prevent hundreds of thousands of crashes every year as new crash avoidance systems become a reality.
Similarly the UK government's select committee looking at the draft Vehicle Technology and Aviation Bill has called for more research into this fast-moving area of technology. It has called for an acceleration of the work on smart motorways and digital road infrastructure, highlighting the international initiatives to draw up standards for data retention in the event of an accident involving a connected vehicle.
Audi head of development Connect Car-2-X Services, Florian Schwensfeier said: "At Audi we are building every service on the basis of 'private by design'. To share data you will need approval of the customer, through the API."
Looking at the speed at which things are moving in the connected car eco-system, it is not difficult to see insurance companies in the traditional mind-set as video store owners just before the digital wave.
The typical vehicle manufacturers today are each partnered with six or seven different mobility initiatives, from technical R&D to sensing to telematics to dealerships to infotainment, with an additional strategy group.
Embrace change or face disruption: this was the message for the vehicle OEMs from a series of industry meetings.
LexisNexis Risk Solutions, a unit of RELX Group, is a global data technology and advanced analytics leader, with customers in over 100 countries worldwide.
Follow these links for information on our Connected Car Team or the LexisNexis® Telematics Exchange.
---
Automotive Insights
LexisNexis Automotive Insights is the go to resource for discussion on helping you maximize your data productivity and efficiency to help improve the car ownership experience.