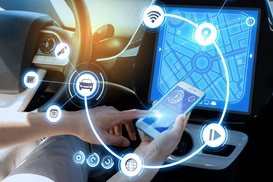 Access to driving behavior data as early as the point of quote is now possible. We recently announced the launch of our LexisNexis® Telematics OnDemand solution that truly maximizes the benefits of telematics and usage-based insurance. Specifically, Telematics OnDemand gives insurance carriers the ability to price risk more accurately at the moment of their first interaction with their customers. Their customers, in turn, are then able to receive a more personalized customer experience that includes pricing and discounts that best align with their driving behavior, without having to go through a monitoring period.
Insurers often rely on telematics devices to track a driver's speed, mileage and total driving time to accurately price plans based on individual driving behavior. Some insurers utilize a mobile app to capture telematics data while others send policyholders a small device they can plug into their vehicle's onboard diagnostic port. Telematics programs using apps and devices are fairly easy for an insurer to set up, but most telematics programs offered by insurers can take anywhere from 2 to 6 months to learn a policyholder's driving behavior and how it can be leveraged when pricing coverage. For consumers – especially digital natives who are accustomed to instant gratification – waiting to see what benefits they gain by sharing information can impact the customer experience. But, what if instead of months, you could get access to driving behavior data earlier, as early as point of quote and with no monitoring period?
Telematics OnDemand meets the needs of both the insurer and their customers by unlocking driving behavior data and alerting the insurer of its availability within quoting workflows through prefill solutions already used by 90% of insurers. Telematics OnDemand provides seamless and timely delivery of normalized and actionable driving behavior data through the LexisNexis® Telematics Exchange. The Exchange can ingest telematics data from US automakers, mobile apps, and third-party services. It currently includes leading automakers such as General Motors, Mitsubishi Motors North America and Nissan North America. The Telematics Exchange was built leveraging our expertise in managing consumer data, our proprietary data linking technology and advanced analytics capabilities. Insurance carriers will receive a consistent and configurable dataset regardless of the data source. This data can then be seamlessly integrated into participating insurers' usage based insurance (UBI) programs.
With Telematics OnDemand, you can:
Have scalable, convenient access to robust, normalized driving behavior attributes — regardless of source.
Eliminate complexity and optimize workflows by receiving timely insights through our single point of entry platform.
Know more about customers and prospects sooner so you can more accurately assess risk, price with precision and deliver a better customer experience.
To learn more about how Telematics OnDemand can unlock the true power of driving behavior at the point of quote, please call 800.458.9197 or email insurance.sales@lexisnexisrisk.com.
---
Automotive Insights
LexisNexis Automotive Insights is the go to resource for discussion on helping you maximize your data productivity and efficiency to help improve the car ownership experience.