Integrate updated provider data in your operations to grow market share and stay one step ahead of the competition.
The healthcare landscape is continually changing, creating challenges for life sciences companies and retail pharmacies. Provider affiliations, fax numbers and addresses change regularly. DEA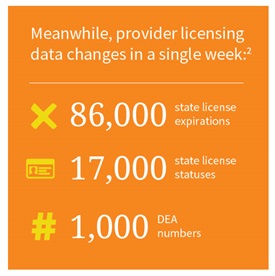 numbers expire and providers pass away. It is more critical than ever for life sciences, pharmaceutical, medical device and retail pharmacies to have access to updated provider data to maximize sales and marketing efforts. It is also critical for pharmacists to have accurate provider information to stay compliant with regulations related to prescriber verification.
Using updated and accurate provider data, your healthcare business can reach out to the right providers, at the right address, using the correct contact information. Find out more about how our data can improve your overall operations by
downloading our provider data infographic.