Social determinants of health (SDOH) data, which include information on a person's income, education, neighborhood and other social or economic factors about an individual's environment, play a critical role in improving health outcomes and reducing healthcare costs. Research has shown that 80% to 90% of modifiable health-related behaviors such as the environment people live in, their income or education level, and other socioeconomic factors affect health while medical care accounts for only 10% to 20% of controllable contributors to healthy population outcomes.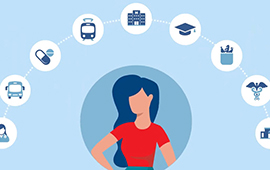 Health care organizations understand that social determinants of health factors can improve health outcomes and minimize medical costs. However, many still miss the opportunity to maximize the use of SDOH data to improve patient well-being and overall outcomes. Getting a social determinants of health model off the ground requires a lot of thoughtful coordination and analysis between analytics teams, clinicians, social workers and other community partners and buy-in from leadership.
Given that social determinants of health can come from a variety of sources, organizations may not fully understand what SDOH data to use to maximize the accuracy of predictive analytics, or how to integrate the data into their current workflows. They also may not understand how to effectively use the insights derived from a social determinants of health model a to identify populations with barriers to care and/or stage interventions to influence healthy behaviors, which is critical to affecting overall health. Finally, many health care organizations recognize the value of non-clinical social data but simply have no idea where to start.
Get an overview of how you can help your team to build a successful social determinants of health business case by watching this short video.