LexisNexis Risk Solutions can partner with health insurers to adapt their organization to meet the new demands of a value based care driven market.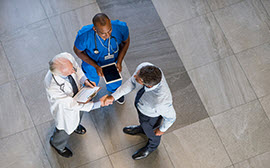 The way care is accessed, delivered and paid for is changing to a value based care model. Payers and providers have an opportunity to become partners in creating a proactive, patient-centered model, one that doesn't only treat sickness but also promotes better overall health.
The current movement toward value based care is gaining momentum. New synergies are forming. New goals are being set. As healthcare emerges in its next form, payers and providers who find innovative ways to improve the member experience, deliver better medical outcomes and lower costs will be the ones that thrive in the coming years.

The ability to leverage current and new data sources, blended with analytics and visualization capabilities, will be light-years ahead in this quest and will be able to demonstrate more effective patient/physician or member/plan relational values.