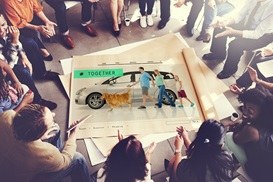 Mobility and technology experts, and data scientists from Daimler, Sara Assicurazione and others recently came together to join SBD Automotive and LexisNexis Risk Solutions at the Connected Car Forum entitled 'Using the Connected Car's Digital Data in the Real World'.
The format for the webinar event was a panel discussion followed by opportunities to take part in interactive polls to gain insights on where auto manufacturers and insurers sit on pressing issues needed to deliver vehicle data-based services. There were also further opportunities to participate in discussions with the panel.
The meeting topics probed into the design-to-delivery process, data monetisation and utilising connected car data for practical, new and valuable consumer services. Identifying what is important: data normalization, scoring, attributes, vehicle rating and the predictive value they bring.
The meeting discussed the latest innovations from the EU Commission for developing new data sharing measures and compliance processes that will enable mass market delivery of vehicle data-based services by building consumer trust.
The eminent panelists were: Daniel Riexinger, Senior Manager Big Data Analytics & Data Monetization, Daimler; Massimiliano Mascoli, Head of Insurtech, Business Execution & International Business at Sara Assicurazioni; Christian Wolff, Senior Researcher at ATB and consortium leader for the EU's smashHit project 'Solving Consumer Consent & Data Security for Connected Car and Smart City', and Nick Walker, Director of Connected Car, LexisNexis Risk Solutions. The event moderator was Andrew Hart, Director with SBD Automotive.
Consumer interaction and loyalty opportunities
LexisNexis Risk Solutions presented an overview of how drivers think and feel in relation to the use of connected car data today with results of a consumer survey. Driving the goals of the smashHit consortium, all participants in the connected car space want to give greater confidence in the use of data, and the role of collaboration, the benefits of which are universal – for consumers, insurers, auto makers and other service providers – driving more data uses into the mainstream.
Technology changes, with ADAS and the rise of assisted driving, are creating new challenges and opportunities. But in many cases, costs, and duplication of data integration costs, are a barrier, which is driving the imperative of the data platform, making data available on an equitable basis.
The webinar covered:
The opportunities vehicle data brings to insurance providers in predicting loss, through data normalization, scoring, attributes and vehicle rating
The challenges of using connected car data in insurance
The objectives of using Advanced Driving Assistance Systems (ADAS) knowledge, mileage and driving scoring
How vehicle data can be used by automotive manufacturers for ADAS vehicle-level benchmarking and to understand ADAS efficacy.
The door this data opens to monetisation opportunities in car insurance
The latest innovations from the EU Commission's smashHit programme to develop new data sharing measures and compliance processes that will help enable mass market delivery of vehicle data-based services.
By creating this platform, working with SBD Automotive and bringing together this diverse group of speakers, we can continue to promote a wider understanding of the factors that need to be considered to leverage vehicle-centric data and the benefits this will bring to both the automotive and insurance markets.
Available on demand: you can now watch highlights of the webinar at this link for the SBD Automotive-LexisNexis Risk Solutions webinar 'Using the Connected Car's Digital Data in the Real World', September 2020.
LexisNexis Risk Solutions, part of RELX, is a global data technology and advanced analytics leader, with customers in over 100 countries worldwide.
---
Automotive Insights
LexisNexis Automotive Insights is the go to resource for discussion on helping you maximize your data productivity and efficiency to help improve the car ownership experience.