Payer organizations need to know where their rates stand compared to their competitors.
Payers are able to negotiate better deals from an informed position. They must leverage competitive claims intelligence to create new growth and innovation opportunities.
As a healthcare payer, you invest heavily in the decisions you make about entering new markets, devising smart network development strategies and innovating through competitive solutions. To negotiate all of the hurdles involved, you need detailed data on providers and institutions, and their real-world relationships with each other. These insights are tricky to capture since the market is continually shifting and evolving.
De-identified claims data can answer many common questions about healthcare contract negotiation and contract management. You can uncover crucial unknowns, such as how your contracted rates compare with others in your market, where you over/underpay, which high-value physicians and facilities you should contract with, and more.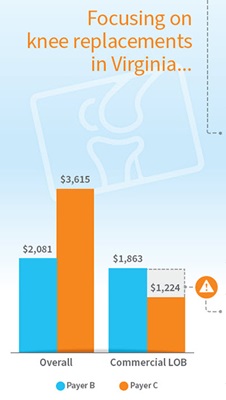 Executives need competitive cost intelligence before contract negotiation begins, including insights on providers and facilities by code, claim, line of business and place of service. De-identified claims data can provide this information and much more, like rate metrics on paid, charged and/or allowed amounts, giving you greater confidence in your contract negotiation process.
Having access to de-identified claims assets provides a way to compare costs at the market level. This way you can effectively evaluate your future contract agreements and inform network development strategies.
Contracted rates for specific procedure codes can vary widely depending on the health plan and state. In this infographic, we take a look at provider rates for knee replacement surgery as an example, using our own de-identified claims data. See how these insights provide visualizations for how your organization might compare its practices to others in your market space to help you negotiate smarter. Drilling down into the data can allow you to make more informed contract negotiation decisions. Download the infographic.