LexisNexis MarketView delivers medical claims-based intelligence to life sciences, providers, pharmacies, healthcare IT and payer organizations across the United States. MarketView delivers actionable intelligence to remain competitive and innovate their business strategies to better serve their patients, their providers and their communities.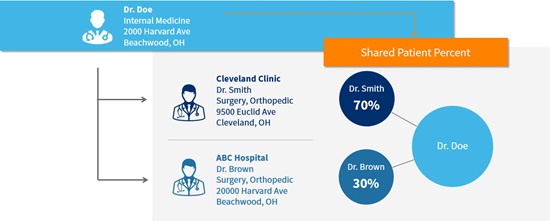 MarketView can help transform key business work streams including marketing, sales, strategic planning, physician relations and outreach, market research, network optimization, recruitment, pricing, contracting, clinical teams and more. Your business needs the most actionable insights to remain competitive. But it's hard to diagnose the right areas of focus when the picture is unclear.
New! MarketView Patient Journey Intelligence

For life sciences, health tech and provider organizations, MarketView Patient Journey Intelligence offers a centralized source of de-identified medical claims data on over 300 million unique patient tokens, tracking the longitudinal journeys of patient cohorts for improved business operations and better patient care. It aggregates data on one of the largest databases of unique patient tokens and is delivered on the Gravitas™ Token, ensuring a high level of data accuracy through unparalleled referential database record matching.
MarketView provider and facility intelligence

By combining the industry's leading provider referential database, claims data and proprietary analytics, along with a robust visualization tool, MarketView delivers insights into areas including referral patterns, physician alignment strategies, the quality of clinically integrated networks, patient volumes, and reimbursement insights. As a result, customers are able to focus on outreach efforts on high-value targets, recognize physician splitting across facilities, and grow service lines and market share.
MarketView leverages more than one billion provider claims — and like an X-ray for these robust datasets, it reveals key details through dynamic dashboards. See global summary-level details through dashboards to examine the anatomy of your target market. And drill into detailed scorecard views of key organizations and practitioners, featuring our comprehensive decile ranking system.