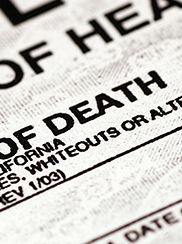 With the increased attention the credit and collections industry has been receiving lately, it's more important than ever to not only know the status of your consumers, but to also have a plan on how to handle accounts as they move into different statuses. One account status that should not be overlooked is that of the deceased consumer.
It's not only important to know when your consumers become deceased, but it's also important to have a plan in place for how your company will handle these accounts. This will go a long way towards making sure this delicate situation is handled with extra care.
Listen as we discuss the importance of deceased notification, recent changes to the Social Security Administration's Death Master File and other options for deceased data, setting up your deceased collections process and options for deceased case management.