Miles driven and violations go hand-in-hand
You can't look at one without considering the implications for the other. In 2022, both miles driven and violations returned to near pre-pandemic levels. Total miles driven in 2022 were just 5% lower than in 2019. Miles driven per week per vehicle were 92% of 2019 baseline for December.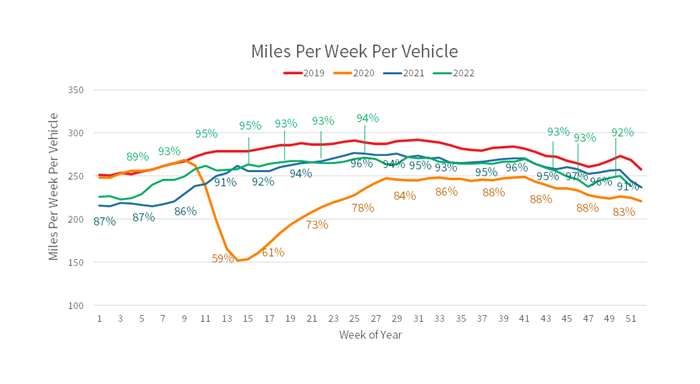 Source: LexisNexis Risk Solutions Internal Data

While the violation mix continues to evolve, some of the most dangerous violations – including speeding, DUIs and distracted driving – are close to or even exceed pre-pandemic levels.
Speeding
In 2022, major speeding violations were more than 20% above 2019 rates, largely due to increases in the northeastern states, which have large population centers.
Minor speeding crept above 2019 levels for the first time in 2022. Although the increase is less than the relative increase in major speeding, its growth rates are just as concerning. This development is significant, as minor speeding represents the single highest category of moving violations and is also one of the highest total volume categories.
DUI
DUI levels in 2022 continue to align very closely to 2019 levels, more so than vehicle miles traveled. However, unlike other violations, DUIs take longer to move through the court system, so they can be a lagging metric. While our observation is that the incident rate for 2022 is closely in line with 2019 levels, we anticipate future reports will identify growth rates above 2019.

Law enforcement officials have reported seeing a steep increase in drunk driving cases since the start of the COVID pandemic that has dramatically increased each year since. Some locales have seen significant increases in DUIs, especially daytime DUIs.
Distracted Driving
Post pandemic, there's been a steady uptick of distracted driving violations as compared to miles driven, especially in 2022. There were three months during 2022 where volume exceeded 2019 for three generations: Baby Boomers, Generation Z and Traditionalists. Generation Z continues to be the most problematic age group when it comes to increases in distracted driving.