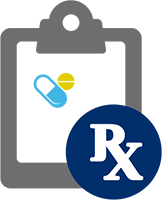 Mismatches and duplicate healthcare records jeopardize patient safety and raise healthcare costs. They can lead to incorrect diagnosis and treatment—including prescriptions—redundant tests, services and productivity loss. This can cost the patient and health plan unnecessary expenditures and can expose pharmacies to risk.

Your pharmacy can avoid prescription errors due to mismatched and duplicate records by turning to a third-party data management company for assistance. With pharmacies being pressed to use a universal patient identifier, a third party data company is the answer to avoid to meet these new mandates and demands. By cleansing patient records of errors and duplications using external data, multiple records can be seamlessly combined into one, showing the full picture of patient. This additional data, plus sophisticated linking technology can connect records common to a single individual.

By partnering with LexisNexis, you pharmacy can get ahead of the universal patient identifier requirement, while keeping your business compliant by minimizing risk of providing the wrong prescription to the wrong patient. Using LexisNexis LexID® can help pharmacies seamlessly match, combine and dedupe multiple records into one with confidence and ease.
Learn more about how these fatal and costly errors can be avoided with LexisNexis LexID solution by downloading our white paper.