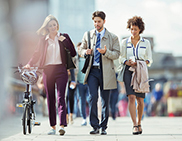 In healthcare today, it's not just who you know, it's what you know about them. Identity matters, and identity intelligence is required to fully manage all the covered lives in the healthcare system.
Medical and demographic details about patients and members are the building blocks of identity intelligence. Along with pharmacy and medical data, socioeconomic and demographic details about patients and members provide enhanced intelligence to provide the best in class care. A comprehensive, integrated approach to managing patient and member identities is critical to successfully executing pharmacy's central role in healthcare. Ongoing access to this updated data is critical to success in pharmacy today.
Identity checks are the first step to success. The next step is elevating identity management to identity intelligence. Learn more about how to elevate your pharmacy operations through identity intelligence by downloading our white paper.