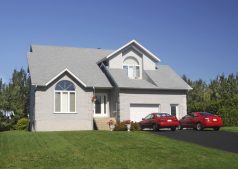 Which comes first: speed or accuracy? Consumers' ever-changing expectations are driven by increasing digitization in myriad areas of their lives. Meeting these expectations is quickly becoming a key competitive differentiator for home insurance carriers. Consumers demand a speedy, streamlined digital experience that insurers must weigh against their own need for data accuracy. As an insurer you must ask yourself: Is using a data prefill solution enough to solve the speed vs. accuracy conundrum?
Speeding Up the Underwriting Process
An insurer's ability to quickly access and utilize accurate data can make the difference between a frictionless transaction and a frustrating customer experience. When it comes to underwriting home insurance, carriers rely on customers to provide detailed information so they can calculate risk and premium. This high level of detail often necessitates a lot of questions about a house that the new homeowner is unlikely to know. This can lead to incomplete or inaccurate applications. LexisNexis® Property Data Prefill automatically fills in key pieces of data for the customer about their property to support a quicker and smoother process for both home insurance customers and carriers. But the time it takes to complete an application and underwrite a policy is not the only issue.
Deliver the Right Quote for Your Customer
As a home insurance carrier, you are acutely aware that new customer acquisition is a time – and money – consuming activity. Even once you have secured a new customer, the amount of data that must be gathered to complete an application and underwrite a policy can be overwhelming. As I mentioned above, it's fairly common that the data you need to accurately determine risk is unknown to the applicant. When a customer must complete multiple question applications, the chance for typos or other errors rises. Consider the following scenario:
Tom and Lily Crane are shopping for insurance for their home at 123 Main Street. Before you begin pricing a new policy, you order a LexisNexis® Current Carrier® Property report via your LexisNexis® Property Data Prefill feed to see Tom and Lily's past insurance history. Unfortunately, when Tom was completing the online application, he transposed his wife's name as Crane Lilly and Current Carrier Property could find no prior policy under that name, resulting in wasted time, and money.
Now, what if I told you that you can avoid these errors using an identity verification solution that can return an error to you prior to the Prefill feed and also return the corrected information?
Identity verification validates consumer identities and helps detect and prevent home insurance fraud. It can also detect typos or other common errors resulting from inaccurate or incomplete consumer applications.
LexisNexis® InstantID® combines verification, validation and risk detection processes to instantly verify consumer identities, spot potential fraud and automatically flag discrepancies found in an applicant's data. It quickly searches billions of public records, alerting you to potential data mis-keys, fraudulent data and discrepancies. Validating identity inputs provides security benefits to you and enables you to:
Build smarter, more secure quoting workflows
Identify discrepancies and improve identity resolution, improving average report hit rates by up to 7%
Find hidden derogatory information using additional past addresses
While you can order InstantID as a stand-alone solution, pairing it with Property Data Prefill can help you verify applicant data before you spend money on additional underwriting data products. You can also maximize your underwriting report hit rates to identify simple errors and fast track low risk applicants, like Tom and Lily, and improve overall customer experience.
Knowing if the data you are using is accurate isn't just important for making decisions about risk. It can positively or negatively affect your customers. Combining LexisNexis InstantID with LexisNexis Property Data Prefill facilitates an automated – and guided – customer experience that improves speed, anticipates changing consumer needs, and drives profitability via better risk assessment and accurate coverage.
Visit our website to learn more about InstantID, Property Data Prefill and Current Carrier Property, or contact your customer representative today.