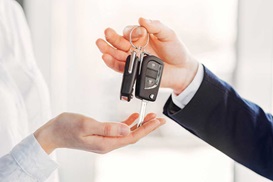 As an automaker, there are numerous beneficial reasons to knowing where your vehicles are located, and who owns them. Beyond the most obvious – and potentially the most important – reason, the ability to follow up on safety-related issues, having access to more current ownership information can help maximize your customer relationships, update your master records, and provide you with an opportunity to engage both the original and subsequent vehicle owner.
The average length of vehicle ownership in the U.S. is about 6.5 years for a new car, and 5.5 years for a used car.1 When you consider that some 45 million people move each year2 and 40 million used cars are sold each year3, it's no surprise that information about a car's current owner is not always correct. With many vehicles equipped with connected services, knowledge of the current owner of the vehicle is necessary.
Following the Vehicle, Finding the Owner
Knowing when a vehicle changes hands is key. Of the millions of vehicles that change ownership every year, only about a third are sold through a franchise dealer network.4 The other two-thirds are transferred through private sales and independent auto dealers, meaning you as an automaker have a potential "blind spot" in identifying secondary and subsequent owners of your vehicles.
The presence of connected services and other aftersales benefits add to the reasons why knowing the current owner of a vehicle is imperative, especially considering that cars built in the last few years now give owners the ability to locate, unlock and even start their car with a smartphone app. While these features may be attractive to for a consumer when buying a new car, issues may arise when that car is resold. Some automakers leave it to the owner to deactivate connected services when he or she sells the car, but often the owner may forget or not even be aware that they must disconnect these services.
Establishing a Connection with Subsequent Owners
On the flip side, a new owner of a used vehicle may not know about available connected services and how to take advantage of them. While connected services can be obvious on some cars – such as in vehicle display functionality – many of these services are not so evident.
As I mentioned above, one of the reasons clear sight into vehicle ownership is so important is that insight creates an opportunity for you to establish a positive relationship with the customer. When a consumer buys a used car, they become your customer too. If you know about the sale, you can start building a relationship with the new owner more quickly and help transfer any inherent vehicle benefits to them, maximizing your customer relationships. These benefits might include connected services or other aftersales benefits, such as prepaid maintenance, roadside assistance and service diagnostics.
Automakers may struggle with knowing when vehicle ownership changes happen and identifying the new owner because traditional sources of owner change information are restrictive, often incomplete and latent, creating a knowledge gap where vehicle ownership is concerned. Latency in receiving updated vehicle owner data can negatively affect owner conversion rates for connected services, challenging automakers in their owner engagement efforts. Currently, there are no timely, scalable sources of secondary owner data for ownership transfers. Until now, that is.
There is a Solution
LexisNexis® Risk Solutions is launching LexisNexis® Owner Check, a new solution that will help automakers:
Quickly and easily identify changes in vehicle ownership
Increase customer engagement and retention opportunities through relationships with subsequent vehicle owners
Effectively manage the vehicle disposal process with the prior owner
How does it work? LexisNexis Owner Check combines proprietary linking technology with a unique LexID® identifier to leverage more reliable vehicle owner information from billions of public records. And as one of the largest custodians of private and confidential data in the world, LexisNexis Risk Solutions has been helping our customers fight fraud, mitigate risk and remain compliant. Want to learn more about how Owner Check can give you a better picture of your vehicles' owners and amplify your communication strategies? Click here to learn more or contact us at USConnectedCar@lexisnexisrisk.com.
1 Edmunds- 2020 How Long Should my Car Loan Be
2 United States Census Bureau
3 Edmunds – 2019 Used Vehicle Report (PDF)
4 NIADA 2019 Used Car Industry Report
---
Automotive Insights
LexisNexis Automotive Insights is the go to resource for discussion on helping you maximize your data productivity and efficiency to help improve the car ownership experience.