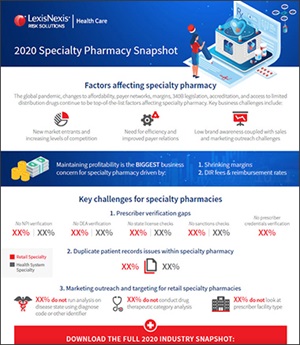 The specialty pharmacy market is on the rise and has been growing steadily for the past decade. As the market for specialty medications grows, these pharmacies continue to shift their focus to overcome new obstacles. A few of their top priorities are expanding provider network relations, responding to changing government regulations, and combating increasing levels of competition.

Survey respondents identified the biggest challenges they face today and what they consider to be the driving factors of those challenges. In order to be successful, special pharmacy companies will need to be able to keep up with a rapidly changing landscape and to accurately forecast future trends. To formulate a solid strategy, they'll need access to reliable market information as well as the capability to do a meaningful analysis of this data.

Empower your pharmacy team with the right tools to break through barriers to growth, and to improve clinical outcomes for patients. Download the infographic to get survey insights on the operational environment across various specialty pharmacies.