LexisNexis Risk Solutions conducted a 2020 specialty pharmacy survey through Specialty Pharmacy Times to learn more about the challenges these niche organizations face today and to uncover the ways they are looking to improve their operations. Respondents represent retail specialty pharmacy, health system specialty pharmacy and independent pharmacies.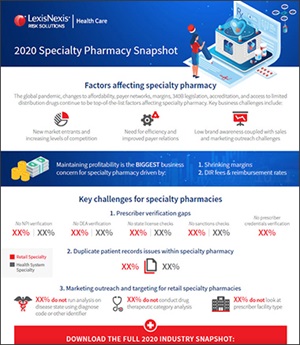 Specialty pharmacies focus on providing medications to patients with chronic conditions and sometimes complex and rare diseases. Treating these types of conditions often requires high-cost, high-touch medication therapies, so the challenges and opportunities vary somewhat from other prescription drug providers. The COVID-19 pandemic, 340B legislation, changes to medication affordability, and access to limited distribution drugs are just a few of the key factors that affect this specialty market.

Growth of this niche medication market is on the rise and it has been growing steadily for the past decade. And as the market for specialty medications grows, these pharmacies continue to shift their focus to overcome new obstacles. A few of their top priorities are expanding health system and payer network relations, responding to changing government regulations, and combating increasing levels of competition. The vast majority of patient referrals come from within a specialty pharmacy's own system, which means pharmacies need to get creative with their provider outreach and patient marketing efforts.

Survey respondents, comprised primarily of pharmacists, identified the biggest challenges they face today and what they consider to be the driving factors of those challenges. In order to be successful, these pharmacies will need to be able to keep up with a rapidly changing landscape and to accurately forecast future trends. One of the biggest business concerns for specialty pharmacies is maintaining profitability while dealing with shrinking margins compounded by DIR fees and reimbursement rates. To formulate a solid strategy, they'll need access to reliable market information as well as the capability to do a meaningful analysis of this data.

In order to avoid exposure to risk, specialty pharmacies should make compliance a primary objective. This means a refocusing on verification of prescriber credentials and a database with current and reliable data. Pharmacists often rely on outdated or inaccurate systems to verify new providers.

Empower your pharmacy team with the right tools to break through barriers to growth, and to improve clinical outcomes for patients. Download the infographic to see what many specialty pharmacies are saying, then contact us to learn how we can help with prescription volume analysis, patient record management, compliance, market outreach, and other challenges.