The Healthcare business of LexisNexis Risk Solutions is committed, more than ever, to our mission of enabling the U.S. healthcare system to operate better to create healthier communities.
Where Is There Increased Risk for Poor Health Outcomes with COVID-19?
Gain Trending Insights on Telehealth
Where Are the Potential Shortcomings in Treatment?
Access Full Infographic:
Emerging Telehealth Trends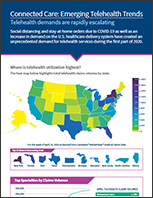 Download PDF
Contact us to learn more about our
COVID-19 insights.