The Healthcare business of LexisNexis Risk Solutions is committed, more than ever, to our mission of enabling the U.S. healthcare system to operate better to create healthier communities.
The COVID-19 outbreak caused by the novel coronavirus has a profound impact on our healthcare delivery and support systems, our economy, safety, and overall way of life. LexisNexis is committed to supporting the US response by partnering with key healthcare players and leveraging our data assets and technology to provide timely insights that can help those on the front line provide care and resources to at-risk populations.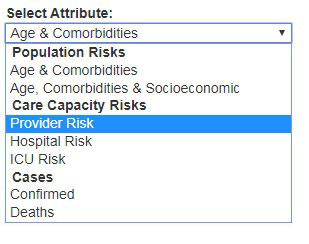 Our comprehensive analytical solutions leverage our unique identity, provider, and claims data assets and provide the foundation of our COVID-19 Rapid Response data set. This interactive visualization helps answer critical questions about the pandemic, such as:



Where is there increased risk for poor health outcomes with COVID-19?
By layering insights across data sets, LexisNexis Healthcare brings together:
Risk scores – to identify at-risk populations
De-identified claims assets – to identify trends related to emerging diagnoses, NPIs, and comorbidities
Publicly available and partner contributed data – to show a comprehensive view of the U.S. population and potential sources of clinical risk
The COVID-19 Data Resource Center data set identifies information, care needs, resources, and other factors that healthcare organizations and professionals need to make informed decisions about COVID-19. This data answers questions regarding where critical gaps in the healthcare delivery system are that require resources in order to address the potential spread and treatment of COVID-19.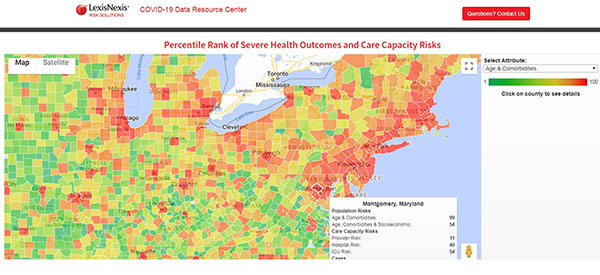 This image is for illustrative purposes only. Actual map may vary based on real-time updates. Visit covid19.lexisnexisrisk.com for details. The LexisNexis Risk Solutions COVID-19 Data Resource Center is a living entity, undergoing new iterations as additional data contributions and analytics are joined to the project. The LexisNexis team continues to evaluate market feedback to assess the value of additional regional views.
Where are the potential shortcomings in treatment?
In addition, LexisNexis is evaluating a number of critical areas that could identify resource constraints and potential shortages from COVID-19 industry demands. These include:
Critical care specialties – such as critical care intensivist, infectious disease specialist, anesthesiologists, cardiologist, and others
Hospital capacity and critical care equipment –including the availability of ICU beds
Accessibility of healthcare providers –by state, region, and county
Visit our COVID-19 Data Resource Center to view national data insights with drilldown by county. Heat maps are updated daily to quickly address the care needs of the community. Insights into these metrics can help all members of the healthcare community as they work to identify where health assets (PPE, ventilators, beds) are available and needed to mitigate the spread of the virus.
During this unprecedented time for our healthcare system, everyone must do their part to fight the spread of the virus, as well as ensure that those who need care are able to get it quickly. If your organization is interested in using the power of data, and insights to help providers overcome the COVID-19 pandemic please contact us.