LexisNexis Risk Solutions Is Named a Leader in Healthcare Data Analytics: Frost & Sullivan Innovation Excellence Frost Radar 2019 Award.
LexisNexis is recognized as a healthcare technology company that consistently develops new growth strategies based on a visionary understanding of the future, and thus more effectively addresses new challenges and opportunities for the healthcare industry.
Healthcare data analytics solutions are constantly developed to improve the effectiveness, efficiency and patient impact of the decisions and strategies employed. LexisNexis Risk Solutions is a provider of these types of healthcare IT and data analytics solutions to help improve the quality of healthcare data and data management processes, inform patient care decisions and build mechanisms to protect information across the healthcare ecosystem.
Frost & Sullivan analyzed 150 healthcare data analytics companies to assess technological sophistication to meet the current and future healthcare industry needs. LexisNexis Risk Solutions was selected and profiled because of its industry-leading ability to offer advanced clinical, financial, or operational analytics capabilities for a wide range of customers, including payers, providers, life sciences, and pharmacies.
LexisNexis Advanced Analytics Improve the Business of Healthcare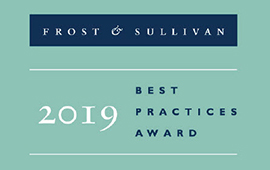 As a pioneer in advanced analytics architecture, LexisNexis Risk Solutions leverages unique data assets including social determinants of health, claims, and provider data to facilitate decision making that impacts operational efficiency, compliance, growth strategies and patient engagement.

Frost & Sullivan recognized the cutting edge approach to integrated social determinants of health analytics into personalized care management with its Socioeconomic Health Scores. It also recognized the data management component of the ®VerifyHCP platform, and the Enterprise Master Patient Index approach with LexID®.
To access the entire Frost Radar Best Practices Award for Innovation Excellence in the US Healthcare Data Analytics market, please complete the form. For more information about our healthcare business, click here.