The IDC MarketScape: U.S. Provider Data Management 2018 Vendor Assessment report positions LexisNexis Risk Solutions in the Major Players category for provider data management for payers software in the U.S. market for 2018.
This report assessed capabilities and business strategies of many of the most prominent provider data management (PDM) vendors found in payers that use that software to establish a "core provider system of record or truth" for the payer enterprise.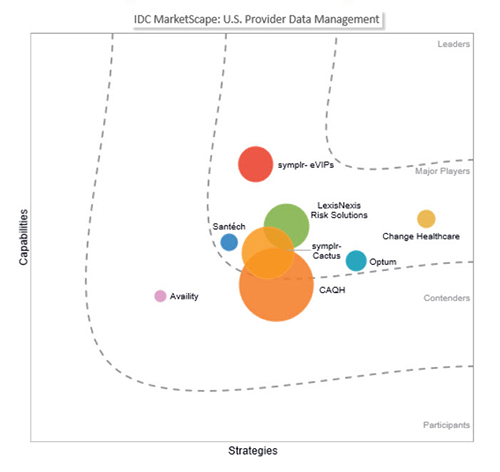 This report also looked at how the landscape of provider data management is changing. Provider data has moved from being a set of tangential reference data used to validate claims to become a core administrative asset. Vendors are being challenged by start-up and established companies that are creatively offering services, lightweight search, and modular approaches to function. In addition, provider data management has significant scope and breadth and is enlarging as new players, new use cases and needs arise in the healthcare landscape.
Consumers are also adding to the complexity of the provider data management business. Consumers now want to search for providers not only by their location or network affiliation but also by increasingly more granular criteria including newly defined specialty types (e.g., adolescent-oriented psychiatrists, autism-inspired art therapists, naturopaths, and wellness specialties). Legislatively, an adequate, diverse, and broad network is desired by consumers and required by ACA and state regulations.
Read more about the changing provider data management landscape and LexisNexis summary profile in this study by downloading this report.