LexisNexis Risk Solutions was named a Leader in the IDC MarketScape: U.S. Provider Data Management for Payers 2022 Vendor Assessment report.
This report assessed capabilities and business strategies of many of provider data management (PDM) vendors found in payers that use that software to establish a "core provider system of record or truth" for the payer enterprise.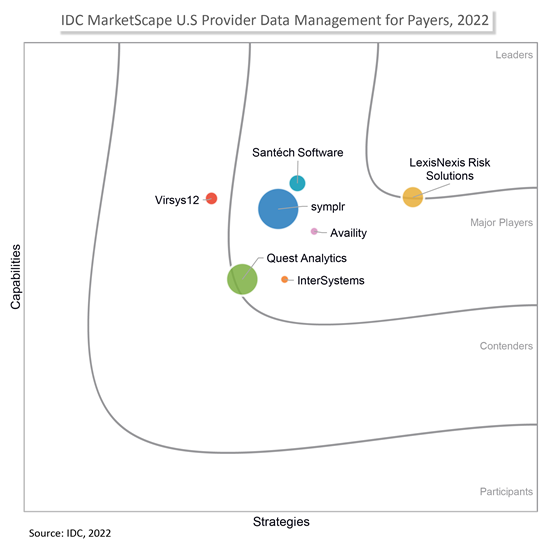 SOURCE: IDC MarketScape: U.S. Provider Data Management for Payers 2022 Vendor Assessment, by Jeff Rivkin, February 2022, IDC #US4881571
IDC MarketScape vendor analysis model is designed to provide an overview of the competitive fitness of ICT suppliers in a given market. The research methodology uses a rigorous scoring methodology based on both qualitative and quantitative criteria that results in a single graphical illustration of each vendor's position within a given market. The Capabilities score measures vendor product, go-to-market and business execution in the short-term. The Strategy score measures alignment of vendor strategies with customer requirements in a 3-5-year timeframe. Vendor market share is represented by the size of the icons.
This report also looked at how the landscape of provider data management is changing. Provider data has moved from being a set of tangential reference data used to validate claims to become a core administrative asset. Vendors are being challenged by start-up and established companies that are creatively offering services, lightweight search, and modular approaches to function. In addition, provider data management has significant scope and breadth and is enlarging as new players, new use cases and needs arise in the healthcare landscape.
Consumers are also adding to the complexity of the provider data management business. Consumers now want to search for providers not only by their location or network affiliation but also by increasingly more granular criteria including newly defined specialty types (e.g., adolescent-oriented psychiatrists, autism-inspired art therapists, naturopaths and wellness specialties). Legislatively, an adequate, diverse, and broad network is desired by consumers and required by ACA and state regulations.
Read more about the changing provider data management landscape and LexisNexis summary profile in this study by downloading the report.