LexisNexis Risk Solutions has powerful healthcare data solutions that empower every segment of the healthcare ecosystem, from managing risk to uncovering opportunities. Data has become one of the most powerful business assets today. We aggregate, link and analyze massive amounts of data to derive intelligence, which can then be integrated into your healthcare organization's existing workflows. Organizations with fully integrated business systems and workflows benefit from leveraging enterprise-wide cost efficiencies, driving down operational expenses, enabling compliance, and reducing overall risk.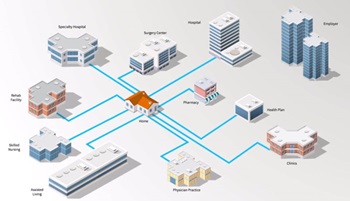 The true value of data goes beyond a utilitarian function of a data product. The breadth and complexity of healthcare data sources require specific expertise to acquire, maintain, analyze, and apply the information. Our sophisticated analytics and technology solutions provide answers to many of the most pressing challenges healthcare organizations face today by analyzing comprehensive, recent and precise data in the proper context to help you meet the healthcare industry's greatest challenges.
We offer access to accurate provider data as well as insight into physician referral patterns that can reveal important connections. Nurturing a better understanding of these relationships helps healthcare organizations identify prime candidates for expansion.
LexisNexis' healthcare data solutions can also help with patient identity verification, real-time compliance checks on prescription transactions, clinically validated social determinants of health and more. Our socioeconomic health and readmission risk scores enable payers and providers to predict health risk independent of traditional healthcare data. As the industry continues to focus on providing value-based care, implementation of this non-clinical dataset can revolutionize the patient experience by improving your ability to obtain a more complete view of a patient. This non-traditional approach to healthcare enables you to better tailor care plans outside of a clinical setting for improved health outcomes.
As the industry leader in public, claims, provider and consumer data, our technology solutions offer actionable insights that can improve patient outcomes and optimize operational efficiency. Watch the video to learn more about how our analytics and healthcare data solutions can inform every segment of the healthcare ecosystem, transforming the way you deliver care and drive growth.