It is no surprise that quality, curated healthcare data has grown into one of the most valuable business assets today. But, to unlock the full potential of this massive data pool, it comes down to identifying the specific datasets that best complement your business and help you achieve your goals.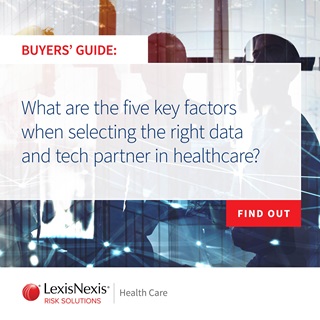 As the industry continues to aggregate and utilize data, the opportunities to uncover valuable insights grows exponentially, and the only way to maximize the value of these insights is to identify the right data provider with the best solution for your specific needs.
Perhaps, your organization is trying to develop a more complete view into the patient's journey, analyze a new market, or verify the accuracy of existing data. While you may not have the internal resources to do this work in house, you can work with a data partner that can help you solve multiple challenges.
Ideally, a partner organization can help you get a fuller picture by offering many solutions. You want a partner that can help you innovate and solve problems and one with which you can grow. This guide will help support you in your search for and in the evaluation of a potential data partner.
This comprehensive guide includes specific criteria to help organizations, like yours, evaluate potential data and tech partners to find a possible match to achieve your goal when it comes to:
Data quality, curation, and compatibility
Market expertise – helping solve today's challenges while anticipating tomorrow's
Implementation success and support
Data privacy and security
A culture of continued innovation


The selection of a data vendor is less about the delivery of information at a point in time and more about establishing a partnership that enables a healthcare organization to better understand patients, providers, and customers across its departmental operations.
Look for a partner who is constantly pushing the boundaries of data analytics while also staying familiar with compliance regulations. Find an organization that focuses its innovation efforts on the success of its customers. You want to find the company who is innovating to help solve your needs as the buyer.
Select a partner that functions as an extension of your organization and aligns with your goals for meeting the strategic objectives of your business now and into the future.