The pandemic has pushed new healthcare technology priorities ahead of old ones.
Prior to the pandemic, LexisNexis Risk Solutions assembled healthcare Chief Information Officers (CIOs), all members of the College of Healthcare Information Management Executives (CHIME), to facilitate conversations around healthcare data governance, privacy and how to address vulnerable populations. All of these technology topics are still relevant – and in some cases even more urgent – as we look to the coming months and years for healthcare delivery in a post-COVID world. Let's check in on the state of medical technology in the healthcare industry.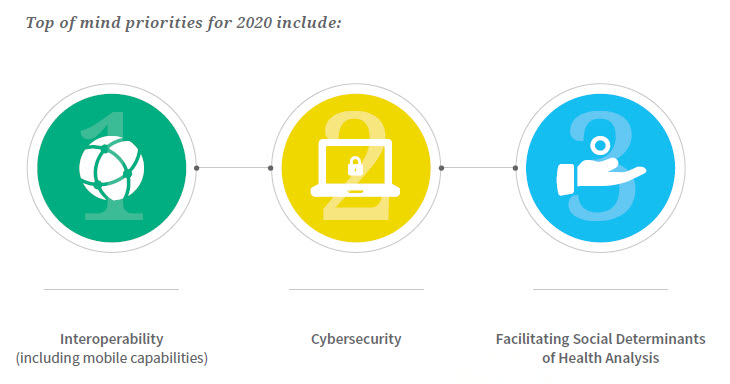 The success of connected care begins with improving the quality and reliability of patient data. Something that healthcare and medical service providers of all sizes struggle to maintain, especially now. But as global technology behemoths speak of mobile health records, personal health data exchange and monitoring patient vitals through wearable devices, a healthy dose of reality resonates among the people charged with making it happen in the patient care environment. It must begin with improving the accuracy of patient data management.
Therefore, technology goals, such as accurate patient information, linked patient records, interoperability and cybersecurity continue to be at the forefront of healthcare concerns. The pandemic has only amplified the need for these technologies to become realities for providers and throughout the broader healthcare industry.
With the move to telemedicine and remote workforces, the technology lens is even more focused on identity management practices and security protocols for access to sensitive healthcare data. Allowing the right person access to the right healthcare records, and ensuring appropriate and patient-centric care, is more critical than ever as the pandemic continues to churn through the U.S. These technology needs have not changed, they've only become more critical to ensure proper value-based medical care and to improve healthcare delivery from providers.
The pandemic has also intensified the need for technology to help us with monitoring social factors that effect patient health and understanding their impact on healthcare access and outcomes. COVID-19 brought the integration of social determinants of health into care planning to the forefront. Data showed that the virus spread most quickly through densely populated cities, and disproportionately impacted vulnerable populations. Integrating social determinants of health data into care models can address these disparities and provide better medical care to vulnerable populations.
Health system technology departments can't achieve the vision of connected healthcare by working in isolation. It requires a true team approach. As the COVID-19 fight has continued, we've seen healthcare organizations proactively come together to share data and medical knowledge in an effort to better understand the disease and optimize healthcare delivery. Cross collaboration between health systems, government agencies and academia will remain critical, helping to forge a faster path to data-driven insight around issues like resource allocation, improved outcomes, disease prevention and cost containment.

Download this research paper to learn about current healthcare technology trends, and to gain insight into how information security, privacy, operations, compliance, clinical and accountable care teams are handling the impact of COVID-19 on healthcare technology.