Identity-based solutions mitigate risk in government


Identity risk is a persistent and pervasive problem for government. It drains billions of taxpayer dollars annually. Fraudsters use stolen, synthetic and manipulated identities to steal benefits, tax refunds and government funds that should be going to qualified recipients.

Fraud is nothing new to government agencies. They've been dealing with it for decades. What's changed though are two key issues:
Most applications and communications are conducted through online channels instead of in-person where physical identification helped in the past to prevent fraud.
Fraudsters have become far more sophisticated, able to exploit vulnerabilities using fake identities and bots.

Why fraudsters are successful
Fraud is continually evolving as perpetrators come up with new schemes. Prevention solutions that were effective just a few months ago may be inadequate today.
Some solutions can catch one type of fraud but not others. And with more services being offered online than ever before, new vulnerabilities emerge, as well as weaknesses in security that previously didn't exist when face-to-face meetings were the norm.
To keep up, government agencies need solutions that offer threat detection and prevention and are able to evolve along with fraud.
The problem with most fraud remedies
Most threat detection and prevention platforms have shortcomings that make them impractical or ineffective. The complaints are many:
Too costly or disruptive to fit into an agency's existing workflows
Inadequate on the front-end in stopping threats from gaining entry
Limiting an agency's visibility into risky behaviors
Insufficient public records data and linking capabilities to verify identities
Difficult to use and interpret actionable insights
Unable to share information between agencies for a single inclusive view of threats
With so many challenges on multiple fronts, it's easy to see how government agencies struggle to get the upper hand on fraud without losing sight of their core mission.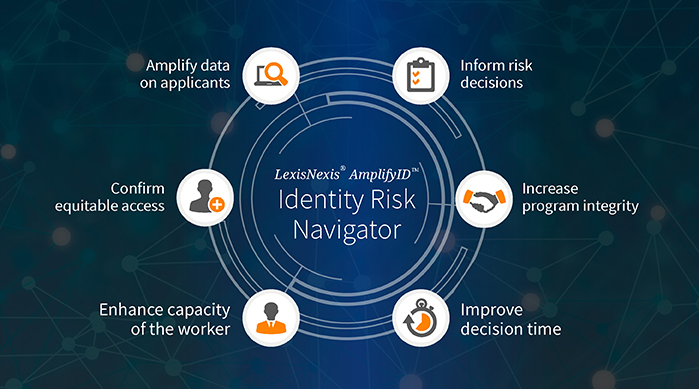 An identity risk mitigation solution that works
Agencies must defend against identity-based threats if they're going to prevent fraud, stop improper payments, strengthen the integrity of their programs and maintain public trust. That defense requires a complete, accurate picture of identity information, one that encompasses data sharing, data analytics and data visualization.
Our AmplifyID™ Identity Risk Navigator helps government agencies strengthen their fraud protection by defending against the full range of current and emerging identity fraud threats.
The platform links and integrates data from multiple sources including internal agency data, large-scale external identity data sets and contributed intelligence across government. Shared intelligence makes all the difference. It gives agencies a much wider view into known risky identities, behaviors and fraud schemes.
The benefits of that intense scrutiny are significant. Agencies using the AmplifyID™ Identity Risk Navigator can:
Detect and mitigate identity fraud
Stop threats on the front end at application screening
Flag and detect suspicious patterns and large-scale fraud, such as a tax refund fraud ring
Enhance identity authentication
Uncover threat networks
Bolster program integrity
Ensure benefits, tax refund checks or government services go to deserving citizens
A full complement of features
What makes our data solution so effective is the clarity it brings to assessing the level of risk associated with each identity. The information is comprehensive, easy to understand, and fully actionable.
Investigative intelligence can inform front-end identity authentication. It's far better to identify and stop fraudsters from entering your eco-system than to try to find them once they've become embedded.
Various forms of visualization take the guessing out of the equation, providing a precise picture of risk. Cross-program risk identification prevents fraudsters from entering through one door when they've already been rightfully closed out of another.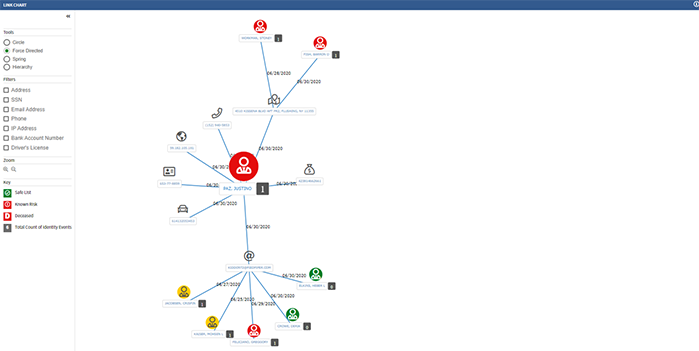 Finally, flagged behaviors, rules and analytics deliver additional insights and remove judgment calls from risk assessment.
Leveraging data from multiple sources
The AmplifyID™ Identity Risk Navigator leverages the vast data resources of LexisNexis Risk Solutions combined with our proprietary analytics and advanced linking technology. The data sources feeding the network include:
A robust, contributory repository of government agency data across programs and states

Internal data from agencies and departments in a given jurisdiction

Public and proprietary data sets from LexisNexis Risk Solutions, accessing 84 billion records from more than 10,000 different sources
With our platform, government agencies gain the exponential strength of the entire network. The result is a practical, thorough, end-to-end, identity solution that can help government agencies prevent fraud in their programs, saving millions of tax dollars annually.
Want to know more? Complete our Contact Us form to speak with a Sales Consultant.