Fraudsters are global and becoming more sophisticated. They're continually refining their methods and testing for new vulnerabilities to access government benefits. During COVID, fraudsters entered government programs by using online platforms with low security perimeters. Unfortunately, fraud may be widespread throughout many program ecosystems.
Find the needles in the haystack
Government agencies are taxed not only with preventing fraudulent new applicants from entering their program but also finding the risk and fraud already hiding within their population. But surfacing those fraudulent identities is extremely time consuming. It can feel like an exercise in futility.
LexisNexis® AmplifyID™ Identity Risk Navigator (IRN) provides a crystal-clear view of your program's participants so you can pinpoint fraudsters. It finds the needles in the haystack for you, by shining a light on the risk and fraud hiding in your population. Validate low-risk identities to review and clear cases quickly, allowing your investigators to uncover and focus on cases that require attention. AmplifyID™ Identity Risk Navigator enables you to:

The full complement of tools available in Identity Risk Navigator gives investigators the edge in rooting out fraudsters and mitigating further fraud risk.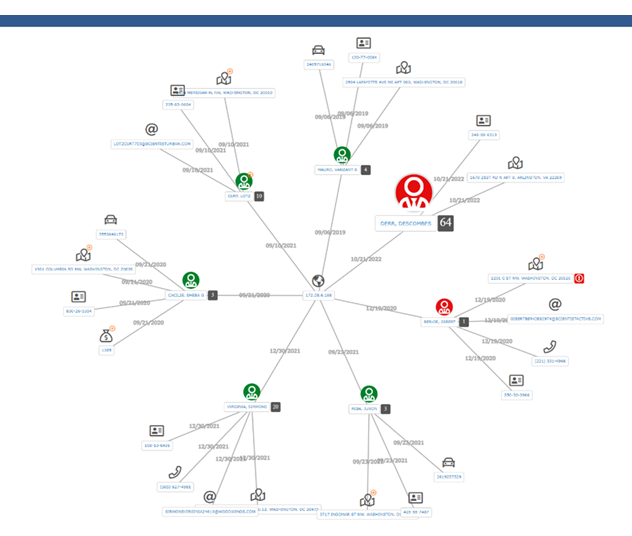 Stay true to your agency's mission
Identity Risk Navigator strengthens fraud detection. Suspicious identities and activities become evident. With a clear view of identity in your population, you can allocate investigative resources effectively and stop more fraud.
AmplifyIDTM Identity Risk Navigator is your easy button to:
Clear cases quickly and reduce backlogs

Provide faster, frictionless service to eligible applicants

Pinpoint fraud with confidence

Reveal potential fraud early to prevent improper payments

Streamline investigations and build strong cases
AmplifyIDTM Identity Risk Navigator offers:
Easy implementation and use

Actionable identity intelligence

Unified view of fraud risks

Insights for front-end preventive workflow

Unique fraud tools such as Find Leads

Smooth integration with DDP, RDP and other identity solutions

Ability to easily assign/reassign, delegate roles, take notes, upload files, track case histories, tag key words, and integrate referrals

Access to LexisNexis Risk Solutions investigative services
Make mission-critical, identity decisions with 99.99% precision.
AmplifyID Identity Risk Navigator brings texture and depth to suspicious identities. Visualization tools further reveal risky connections that signal larger coordinated schemes or evolving threat types. Investigators can use these insights to prioritize cases, allocate resources effectively, and stop more fraud.
Get answers fast
Top 30+ risk attributes to detect fraud and risky behavior

98% coverage of the U.S. adult population

84 billion records

10,000+ data sets including alternative data Unrivaled, large-scale, data linking abilities analytics for identity insights
AmplifyID Identity Risk Navigator delivers robust, connected risk intelligence and analytics for investigations into possible fraud. It checks your agency's data against 500 risk attributes, 30+ solely focused on risk – a leader in the industry. Your agency receives a comprehensive view of participants, one that quickly detects identity fraud and high-risk data elements.
Amplify investigative powers with services
AmplifyID Identity Risk Navigator can be agency self-directed or augmented with our LexisNexis® Special Investigation Unit (SIU). The SIU offers critical investigative services with analysts providing experience-driven insights into situations that might otherwise be impossible or take too long to unravel. These SIU analysts are former law enforcement, financial services, retail fraud, national security intelligence, and military intelligence analysts.
Utilizing the SIU in combination with AmplifyID Identity Risk Navigator empowers your agency with additional investigative and analytical bandwidth to investigate suspicious patterns and dubious identities fast.
The SIU can also provide:
Research into agency data or investigations, with real-time monitoring of fraud and identity solutions

Performance monitoring and analyzing of data to help stop attacks, technical issues, or other anomalous behavior before they become a problem
Want to know more? Request additional information about AmplifyIDTM Identity Risk Navigator.