These questions and more have created inevitable delays in reaching compliance with the new rule. Additional challenges exist around adhering to new Fast Healthcare Interoperability Resources (FHIR) standards, conforming to new public reporting mandates, and of course developing the root capacity to ingest and communicate out patient health information and other data from multiple sources while maintaining patient privacy and data security.

As access to and transfer of protected health information (PHI) becomes common, it will only increase the need to ensure that appropriate authentication and security measures are in place. All of these new functions will require substantial funding and potentially new third-party partnerships to meet these stringent IT needs.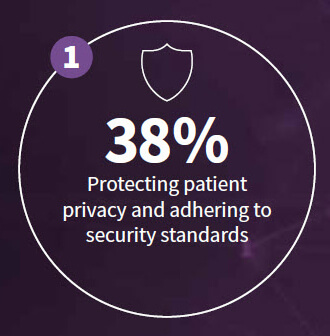 Understandably, payers have concerns as they progress toward full compliance. In partnership with Healthcare Dive, we surveyed 110 health plan professionals about their readiness and concerns regarding the 21st Century Cures Act. 38% of respondents are primarily focused on the need to protect patient privacy and adhere to security standards. Regardless of the top concern, survey participants indicated that the most helpful capability they need to be successful is clean, high-quality data.

As payers plan for the future, they should look beyond current system data and consider use cases that may become possible with enriched data sets. Evaluate new potential data integration capabilities and how they may improve payers' ability to support data security and privacy beyond the current requirements. Forward-thinking organizations may find that by developing their own capabilities outside the scope of the 21st Century Cures Act, they open up new opportunities to benefit patients as well their own organizations.

Meeting the new interoperability requirements is not a simple task, but the tools and expertise are available to help your organization succeed. At LexisNexis Risk Solutions Health Care, our high-quality data and analytics are helping healthcare stakeholders to meet the new data requirements and lead the way toward patient-centered care and better outcomes. Download the infographic to learn more about what payers are saying about their readiness for the new interoperability requirements.