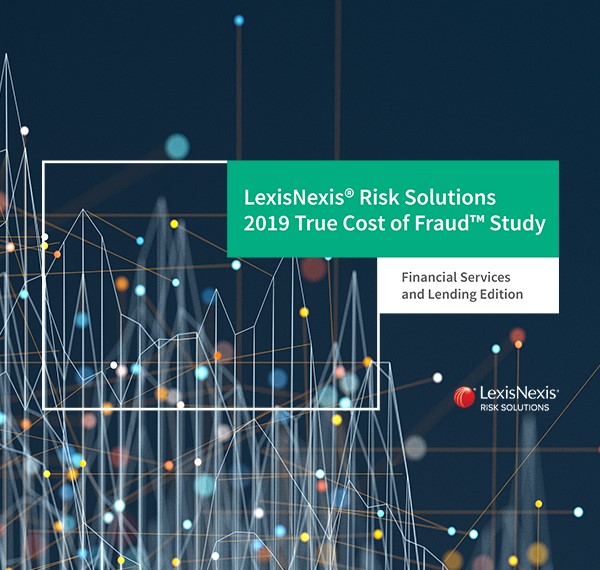 Firms struggle to stem losses while preserving the customer experience.
A $1 fraudulent transaction now represents $3.25 in true costs for financial services overall and $3.44 for lending overall. That's an increase of roughly 20% since 2017 for both financial services and lending. The losses are likely to mount, given the sharp rise in successful fraud attempts over the past year.
Criminals are getting smarter and new technologies make it easier for them to circumvent current risk management processes, according to our latest report on fraud in financial services and lending.
Now in its 10th year, the LexisNexis® Risk Solutions True Cost of Fraud
TM
Study explores the dynamics driving fraud risk, organizational challenges of fraud prevention in a customer-centric world, and the delicate balance of fight versus friction.
Insights From Your Industry Peers
Our 2019 study includes executive participants from all corners of financial services and lending:

Markets
Retail/Commercial Banks
Credit Unions
Investments
Trusts
Wealth Management
Auto Lenders
Finance Companies
Mortgage Companies
Non-Bank Credit Card Issuers
Non-Bank Personal Loan Issuers
Segments
Small firms (less than $10 million in annual revenues)
Mid/large firms ($10 million or more in annual revenues)
Digital firms (50% or more of transactions via online and/or mobile channels)
Non-digital firms (less than 50% of transactions via online and/or mobile channels)
Key Challenges in The Fight Against Fraud


The issues that weigh on these financial firms generally center around revenue loss, the inability to stay ahead of emerging fraud risks, and the pressure to provide seamless digital experiences.

The cost of fraud for financial services firms now equals about 1.78% of revenue. Lenders suffer even more, taking a 2.19% hit to the bottom line.
Our study reveals that the most at-risk financial services and lending firms may not be optimizing solutions and methods to address newer, more complex fraud types such as bots.
Compounding the issue further, these providers are battling fraud in an era of customer-centricity, where the need to provide positive, fast, low-friction experiences is key to competitive success.

Understanding the Hotspots


Thieves continue to pursue their old tricks and have added new ones to the mix.

Mobile Channels

We see a significant increase in the use of mobile channels since 2018. A sizeable majority of participants now offer this option to meet consumer demand for speed and convenience. Meanwhile, these firms also perceive mobile to be more vulnerable to fraud and more difficult to manage against customer friction. Their concerns about risk are warranted: the financial services industry saw mobile account login attacks surge 107% in the second half of 2018, compared to a 37% increase in account takeover via the desktop channel1. Consumer behaviors such as using open WiFi networks, staying logged into apps/websites and exposing themselves to malware compound the problem.
Synthetic Identities
Several factors make synthetic identity fraud attractive to fraudsters: data breaches and the accessibility of Personally identifiable information (PII); gaps in the credit process; and inability to detect this type of fraud. The perpetrators are smart: They'll spend a little time nurturing the identity to mimic a good customer, establishing good credit, paying on time, etc. before breaking bad and doing harm. They also know exactly what they need to pass through certain checkpoints.
Botnets
A majority of banks reported a double-digit year-over-year growth in malicious botnet activities. Mobile botnets infect devices with malware that allows them to steal identities, hack accounts and make fraudulent purchases—all without the consumer's knowledge. A significant chunk of respondents said that "distinguishing between automated bots and humans" is one of their top 3 online fraud challenges.
International Transactions
While foreign transactions are decreasing among lenders, they are growing at banks and investment firms, especially mid/large digital banks. With international transactions comes more complexity around availability of data, privacy regulations and more. When these transactions are made via mobile devices, firms often have difficulty identifying geolocation which seriously impacts identity verification.
See The Way Forward
True Cost of Fraud covers a lot of ground, but it also clarifies areas of focus as you fortify your risk management strategy:
There are several identity-related sticking points to address across channels, and particularly with mobile and international transactions:
Determining the source of transaction origination
Limited ability to determine geolocation
Balancing speed of verification with customer friction
Study findings underscore the value of adding third-party, real-time data and transaction tracking tools.
There's also a need to employ more digital identity and behavior data and analysis to overcome the complexities of "faceless" digital channels.
Balance is key: Best results come from a multilayered approach incorporating different levels of authentication and verification appropriate to the potential risk of the transaction. The toolset should include advanced identity verification and risk assessment solutions that understand the nuances unique to digital and physical channels.
Get caught up on the latest information in financial services and lending fraud. Read the full report at link below.
1 ThreatMetrix®, H2 2018 Cybercrime Report