The story of mental health care in the U.S. can't be told without talking about COVID-19, the shortage of mental health caregivers and telehealth.
Mental Health Provider Shortage
Medical claims data tells a story of mental health appointments being met. However, there is a shortage of mental health workers and it's impacting an estimated 132 million Americans.1 These are Americans that need care. Mental health providers are also feeling the impact.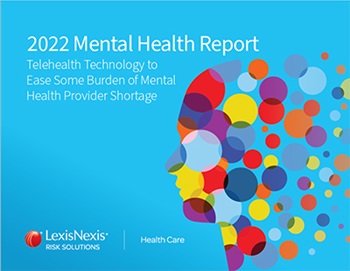 Mental health providers are unable to keep up with demand for appointments and the stress caused by the workload. In fact, a study reports that during the COVID-19 pandemic,76% of mental health workers surveyed reported being exhaustion and burnout:
93% reported experiencing stress
86 percent reported experiencing anxiety
77% reported frustration
76% reported exhaustion and burnout
75% said they were overwhelmed2
The reason is potentially due to their own stress about managing in a pandemic, but the stress of having a greatly increased workload is likely.
Creating a larger workforce of mental health professionals will take time. For now, technology can help with access to care and efficiencies.
Telehealth Answers the Call
Healthcare is gradually turning to technology for assistance and data. Monitoring is one way we've seen technology used in healthcare. Remote blood pressure monitoring is one area that technology and data sharing has been successful.3 Wearables is another way to monitor, like for blood sugar levels. As consumers become more internet savvy, it's no surprise they look to the internet for information about their health, including mental health.
The pandemic was a turning point for technology. The average person became familiar with video calls, online streaming and online food delivery. As people became more comfortable with technology options, telehealth became popular. Medicare reports a 63-fold increase in telehealth utilization during the pandemic.4 Telehealth offers convenience, cost savings and an alternative when mobility is a challenge, improving access to care.5
Mental health providers indicate an overall positive opinion of telehealth, but also acknowledge some drawbacks like bad connections and the impersonal nature compared to in-person meetings.6 General concerns about telehealth are around internet access, skills and equipment necessary to participate. No one wants to marginalize patients with physical or cognitive disabilities that can't use telehealth. Standards and evaluation are also of concern.7 Despite concerns, telehealth is effective and may help with managing the workload until the shortage of mental health workers is remedied. Also, the Department of Health and Human Services has been assisting healthcare providers with getting started using telehealth.8 Support for telehealth comes from many sources and seems as though it's here to stay.
Our Report
Medical claims for mental health care increased during the pandemic. Do you feel the world has returned to normal and the number of claims probably have too? Our report looks at claims data for stress and anxiety over time through the lens of telehealth. Read the report to learn how claims volume has changed and where we are today.