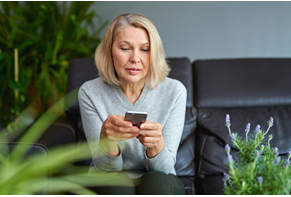 A Strong Healthcare Digital Experience Benefits Members and Payers
As healthcare payers plan member engagement approaches for 2024, a solid healthcare digital experience strategy should be at the top of their list. Healthcare digital experience – includes online interactions such as social media, desktop or mobile applications, websites, and online portals – can make or break consumer loyalty.
Research shows that consumers are most likely to favorably recommend companies with digital platforms that lead to personalized, consistent customer service experience across multiple channels. Across the U.S., industries are responding by providing more and more digital platforms and self-service capabilities.

Online member portals allow payers to directly engage members, but must be thoughtfully designed. Simply creating a portal isn't enough. A low-friction authentication process makes it easy for members to login, and provides assurance that their personal information is protected. Investing in a portal with these attributes pays off. Members who register and engage with a payer's portal are more likely to return and use the portal when offered a consistent, easy-to-use experience.

A strong healthcare digital experience:
● Provides cost savings for payers
● Can lead to better health outcomes & quality scores
● Strengthens data security and privacy compliance

To see these benefits, payers need to make sure their digital tools and online portals have high use. Make your portal easy to use, and you'll see members login, register, and return again and again. This translates into more engaged members, better opportunities to provide resources to members, higher retention rates, and better health outcomes and quality scores. If members have a cumbersome identity authentication process, they may not return.

McKinsey surveyed leaders in customer experience, and found that while companies are investing in and expanding their digital platforms, they are widely underutilized. 77% of survey respondents reported building platforms, but only 10% reported full adoption. To maximize the benefits of a strong healthcare digital experience, payers need to assess current portals and digital tools and look at utilization across their members.

Payer portals that deliver highly personalized, low-friction user experiences are more likely to see high rates of enrollment and utilization. To stay competitive, payers must provide a positive healthcare user experience, while protecting systems from unauthorized access to sensitive health information.

LexisNexis Risk Solutions offers industry-leading identity verification tools that translate to a highly personalized, low-friction healthcare user experience for members. Making registration and login processes easy for members leads to a higher rate of returning members, and ultimately results in stronger member engagement across your digital offerings.

How can you get started? Payers should center their strategy on member-centered portals and digital platforms that meet and exceed member expectations. Well-designed portals make it easy for members to access health information and manage their care, keep personal health data secure and private, and offer many long-term benefits that impact payer financials and quality performance.

LexisNexis Risk Solutions believes in the power of data and advanced analytics to transform healthcare. When the right data meets the right technologies, healthcare organizations can balance digital identity risk and user experience to improve access to care for all.