Different data points can contradict each other, or data can become mismatched.
Prior to starting unwinding processes, begin with a clean list.
Match data using a referential-based Master Person Index to link state data with thousands of real-world data sources – so that your organization can get the benefit of any name changes and accommodate for missing info or human typos.
What needs to be reassessed for coverage?
• Typos
• Similar Information
• Missing Information
• Information Changes
• Data Management
• Data Formatting
• Identity Fraud
Alternative data enables successful unwinding decisions

To inform PHE Unwinding and redetermination decisions, agencies need real-world data from alternative sources to better understand each individual and enrollee. Alternative data sources are the key for agencies to truly understand the people they serve. Sensitive Medicaid program redetermination decisions require precise and timely insights.
•
Continuously updated real-world data to understand member needs and context to improve coordination
of care.
•
Fine-tune sensitive decisions with additional data and confidence scores.
•
Applying the right data at the right time in the Medicaid Member lifecycle (and integrated into eligibility
workflows) makes staff more efficient and responsive to member needs.

LexisNexis® Risk Solutions brings more than 10,000+ sources of individual level public records and credit-based data to provide deeper insight and precision into understanding each individual and enrollee.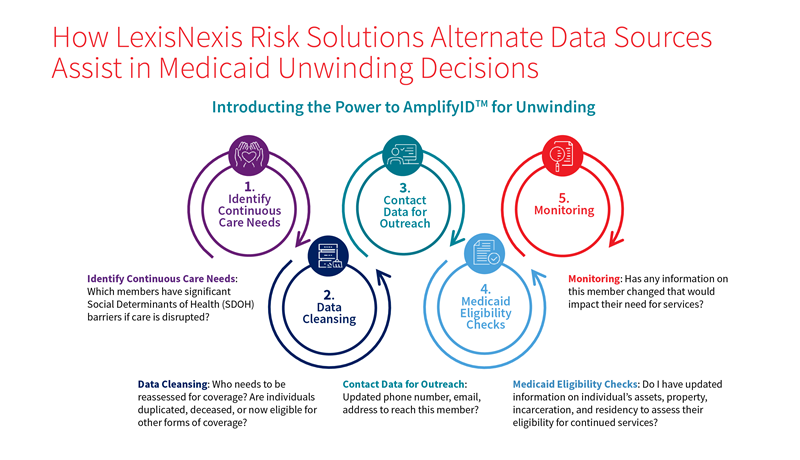 Streamline Eligibility Processes with Continuous Monitoring

Leveraging LexisNexis Risk Solutions data provides each state agency with the tools to help mitigate the risk of inappropriate terminations and churn, as well as ensure that the state also resumes timely processing of new applications. Enriching data by consolidating identities, removing, and flagging deceased or incarcerated individuals and enhancing the understanding of the populations served, are critical components of continuous care needs.

LexisNexis Risk Solutions can help overcome critical gaps by leveraging thousands of data sources to improve contact data, ensure consistency between departments, as well as determine what is most likely to be information critical for targeted outreach.
Understand & Prioritize Continuous Coverage through Real-World SDOH Data
Knowing that clinical data does not always reflect the full context of health, Medicaid organizations understand that their members may need additional support to navigate the complicated healthcare ecosystem – especially when transitioning from Federal Medicaid to a State-based exchange or other forms of healthcare coverage.
Instead of relying on point-in-time
social determinants of health (SDOH)
assessments or zip code census data, Medicaid organizations can immediately unlock clinically validated data on each individual's socioeconomic factors, such as housing instability, social isolation, food insecurity, or financial instability. LexisNexis® Socioeconomic Attributes and Scores provide agencies a population-level assessment of members' SDOH profiles and relative risk for medication adherence gaps or readmission risks. Most importantly, LexisNexis Socioeconomic Scores provide agencies individual-level, ranked, SDOH care-drivers that point a care coordinator to specific SDOH care gaps that can be addressed to mitigate risk, speed renewals, and improve access.

Leveraging LexisNexis® AmplifyID™ for Unwinding greatly simplifies revalidations. Efficiency and ease of use are critical for Medicaid state agencies, particularly as Unwinding overlaps with regular processing of new Medicaid applications and increased program rolls.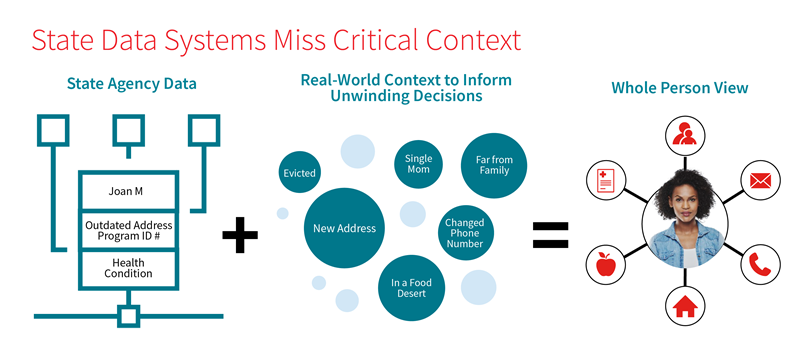 AmplifyID™ for Unwinding accelerates understanding of the person at the core of unwinding decisions.
The AmplifyID for Unwinding Advantage: Tech + Data + People

Our HHS-focused solution architects and data analysts fine tune results to your specific workflow, system integration requirements, and policy preferences.