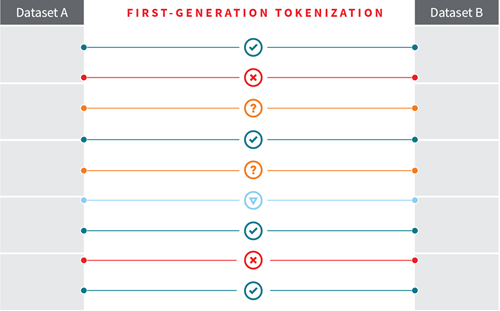 Current first-generation tokenization solutions can securely de-identify healthcare data, but they cannot provide the most complete picture of every patient journey. This is because first-generation de-identification technology is not coupled with the sophisticated linking capabilities found only with a smart token using referential matching.
Unlike first-generation tokenization technologies that use deterministic or probabilistic matching, the smart tokenization that powers the LexisNexis Gravitas™ Token pairs secure de-identification with a layer of referential data for superior linking. Datasets from Gravitas™ Core, Gravitas™ Network, and customer inputs are matched "behind the firewall" against a referential data layer.
The Referential Data Layer — powered by proprietary LexisNexis Risk Solutions data — matches datasets with unparalleled precision and confidence.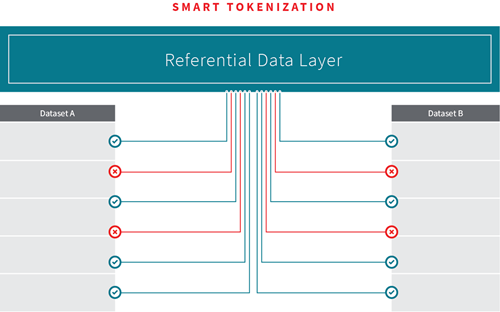 These matches are tokenized and returned to the customer fully de-identified and research-ready. The result is a smart token that delivers the highly precise patient matching needed to unlock new health research insights.
Drawing on a legacy of more than half a century of data security and privacy at LexisNexis Risk Solutions, the Gravitas Token enables HIPAA-compliant use of real-world data and delivers a complete patient view that comprises social determinants of health (SDoH), medical claims, mortality, and additional invaluable data points from Gravitas Network partners. With granular access to these high-quality datasets, healthcare users can unlock the detailed insights they need to assess longitudinal outcomes, expand research capabilities, and effectively design studies.