Industrialized fraud networks are leveraging consumer vulnerabilities and borderless connectivity to increase the velocity and scale of attacks.
The same technologies accelerating digital transformation also enable sophisticated fraud attacks from across the globe.1

Fraud attack rates have kept up with increasing global digital transaction volumes. Human-initiated attacks increased 32% between 2021 and 2022. High-velocity automated bot attacks increased 38% over the same time frame. 2

Despite increased fraud attacks, some organizations maintain or even reduce fraud prevention capabilities in response to economic headwinds.
Short-term cost savings increase risk of future, larger financial losses due to fraud. To detect and prevent more fraudulent transactions or interactions, organizations need more granular data and the ability to act on that intelligence. Detection tactics must examine myriad fraud risk signals, at increasing scale and speed.

What identifiers indicate more nuanced fraud?
Applied in isolation, consumer email address, device and verified identity components can reliably detect certain strains of identity fraud. When combined, their predictive power multiplies, making these identifiers far more powerful for assessing application risk.

For example, overall fraud risk increases 20 times when an application has an address distant from the best-known applicant's address, and the email on the application is associated with three or more devices. This insight only comes to light when using multiple, integrated fraud and identity solutions.

Download the white paper The Multi-layer Fraud Defense Network to learn more about taking a more holistic approach to fraud detection, and responding faster to emerging fraud attack vectors.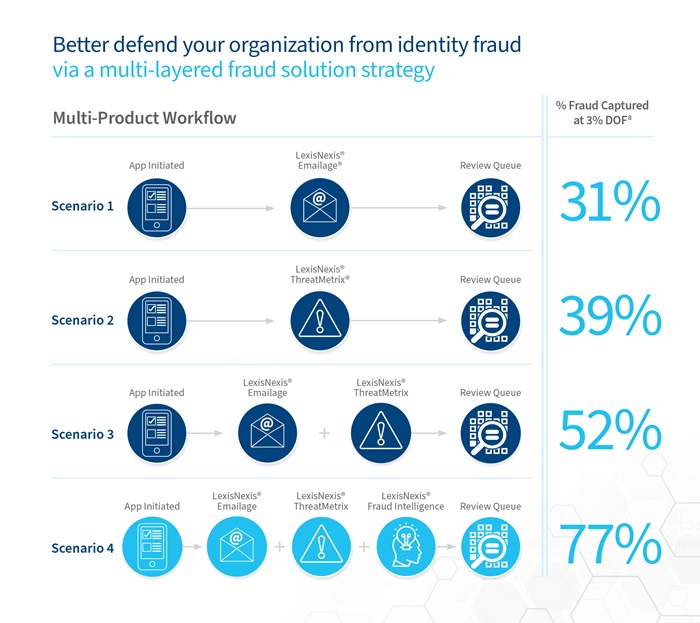 1-2 Source: LEXISNEXIS® RISK SOLUTIONS Global State of Fraud and Identity 2022