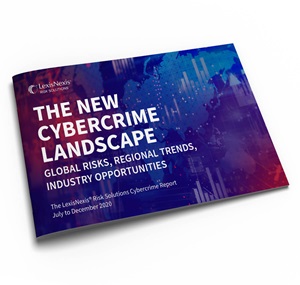 Read our Cybercrime Report for July-December 2020 to understand the current growth trajectories of global digital commerce and specific transaction activities. Explore detailed insights into the most pervasive cybercrime trends and frequently targeted industries. You'll see why a dynamic, multi-layered fraud prevention strategy is pivotal to fully capitalizing on digital commerce opportunities and confidently defending your business in a rapidly evolving cybercrime environment.
As initial consumer reactions to the COVID-19 pandemic settled into durable, more defined buying behaviors in the second half of 2020, the importance of a robust and seamlessly connected omni-channel ecosystem became evident. Well-networked cybercriminals persist in leveraging the threat vectors of automated bot attacks, new account creations and payment transactions to relentlessly target key points across the customer journey.

The LexisNexis Risk Solutions Cybercrime Report is based on cybercrime attacks detected by the Digital Identity Network from July-December 2020, during near real-time analysis of consumer interactions across the customer journey, from new account creations, logins, payments and other non-core transactions such as password resets and transfers.
The
Digital Identity Network
and its near real time policy engine provide unique insight into global digital identities across applications, devices and networks.
LexisNexis Risk Solutions customers benefit from a global view of risks, leveraging global rules within bespoke policies that are custom-tuned specifically for their businesses.
Find out more by downloading the most recent LexisNexis® Risk Solutions Cybercrime Report.