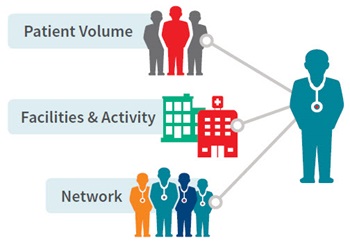 MarketView connects data from multiple claims sources to provide unparalleled insights into provider relationships, physician referral patterns, market influencers, patient care teams, and the quality of clinically integrated networks.
As a result, customers are able to focus outreach efforts on high-value providers and gain a better understanding of the physician relationships that influence referrals in and out of network. MarketView can provide actionable insights into how high-volume providers split their time across facilities.
This analysis enables healthcare organizations to identify the prime candidates for expansion. Understanding where patient leakage happens can help organizations as they identify and implement strategies to minimize out-of-network referrals.
LexisNexis provider network management and targeting solutions provide insights into opportunities to expand provider networks and diversify product offerings. Patient volume, provider network and reimbursement insights empower healthcare organizations as they assess new markets for expansion. As organizations seek to bring new practitioners within network, MarketView can identify high value providers for network acquisition, give insights into key provider specialties for product expansion, and evaluate provider presence in new geographies under consideration.
When claims intelligence from MarketView is used together with LexisNexis
Provider Data MasterFile
, healthcare organizations can achieve commercial success by enhancing their provider network management and targeting. Contact us today to find out more.